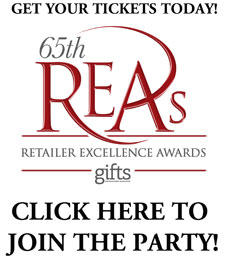 Celebrate Retail and Gift Industry excellence at the 65th annual REAs! Registration is open so be sure to get your tickets before they sell out. The REAs will be held Sunday August 21, 2016 at The Lighthouse on Chelsea Piers. Cocktail Hour starts at 6:00 pm. Don't miss out on the Gala Event of the Summer!
Get Tickets!
Savvy Store Solutions

Carol Schroeder

July 26, 2016

"I don't want someone who's just friendly—I want someone who is knowledgeable," posted a consumer in the comment section in a blog about what customers want. As we all know, a cheerful staff is an important part of making customers feel welcome. But having a well-trained sales staff is a key means of differentiating your store from a big box or chain store. And it takes a lot for employees to know more than today's consumers, who have often studied up on a product online before coming into the store. Staff training is an ongoing process ...
View All Blogs