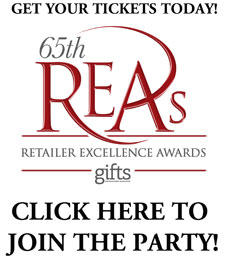 Celebrate Retail and Gift Industry excellence at the 65th annual REAs! Registration is open so be sure to get your tickets before they sell out. The REAs will be held Sunday August 21, 2016 at The Lighthouse on Chelsea Piers. Cocktail Hour starts at 6:00 pm. Don't miss out on the Gala Event of the Summer!
Get Tickets!
Savvy Store Solutions

Carol Schroeder

August 24, 2016

One of my sales reps reported facing a dilemma recently. She stopped in a store she sells to while out shopping with friends, and was surprised to find the young employee behind the counter listening to music on his phone — with headphones on. She was not sure whether she should report this to the shop's owners, but decided that it was in their best interest, and her own, to do so. After all, her success as a sales rep is dependent upon the success of her retailers. While it is a great idea to offer employment to young people ...
View All Blogs