Gift for Life hosted its annual fundraiser Monday, July 31, during Las Vegas Market. Vice Chair Matt Katzenson speaks with GDA about Up on the Roof's success and special guest Donny Osmond. (Video coverage sponsored PROFITsystems.)

More Videos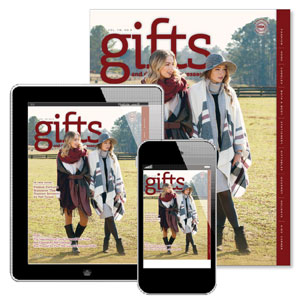 See the July 2017 issue of Gifts & Dec. In this issue... Fashion forward, Repurpose That, Sumer Inventory for Fall Trends. Plus: The importance of local fare and fair trade, Are customer still coloring and Tea (Towels) for two: The latest in gourmet gifts. Get details!
GiftRap

GiftRap

August 11, 2017

This Week's Picks: Fragrant Diffusers, Beer-Scented Candles, Baby Accessories, and Melodic Wind Chimes

Here's a clue to just a few of what we've been crushing on as of late.From trinkets to bracelets, we think they're all great.So don't be blue when you don't know what to do.Just listen up and follow our tool on the latest gifts you should get into. Working at Gifts and Decorative Accessories is like living every day as a holiday. Searching for the latest new products feels a lot like shopping, and receiving samples in the mail feels a lot like our birthdays. We love what we do. We love ...

GiftRap

GiftRap

August 4, 2017

This Week's Pick: A Farmhouse Fresh Sleepover at Work

Today was a very special Friday at work. It was the first day Managing Editor Anne-Marie Earl and Editor in Chief Lenise Willis were both in the office after covering the Las Vegas Market. And Assistant Editor Brianna Glenn was returning from her vacation in the Dominican Republic. Needless to say, us gals needed to catch up! And since Farmhouse Fresh was nice enough to send us three new facials to try, we grabbed our robes from home and a chocolate treat and had our own little "sleepover" in the office. Editor's Picks: Farmhouse Fresh Facials Each one of ...
View All Blogs
From exclusive Consumer Research to what's trending and why across gift/home categories, the 2017 Gift Book provides consumer and industry insights designed to help inform retail decisions in the coming year. See Details!
The REAs Are Almost Here: Learn More About the Gift For Life Award Winner

More Videos
Top 17 Impulse Buys for Your Register

We extensively cover product trends, display techniques and all matters of getting the customer to the register—with their hands full, of course. But what about once they're there? Just because a customer is already in line to buy doesn't mean they are done shopping. Impulse buys and add-ons displayed by the register are the last chance to tap into that emotional buyer. So while at Las Vegas Market, we kept our eyes peeled for some of the coolest add-on items that had even us wanting to scoop one up on the way out the door. Check out these top 17 impulse buys that you would be wise to keep by the register.
View All Slideshows