Lightweight, reversible totes from Mixt Studio are made of Tyvek. One side comes in a beach More ...
Retailer Excellence Awards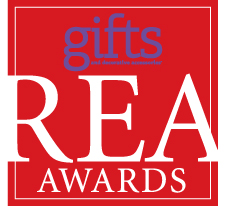 63rd Annual Retailer Excellence Awards.
Fill out your entries today!
• REA Entry Form
• Rising Star Nomination
• Sales Representative Nomination
Talking Walnut

Pamela Brill

April 15, 2014

Stuff My Basket: Rabbids, Squeakaboos

Less than one week until Easter; are your baskets ready for stuffing? Gone are the days when I was a kid, and chocolate bunnies and jelly beans would suffice. Ever since the Easter Bunny has stepped things up a notch to include toys and other goodies, we've been on the hunt ourselves in search of fun favors. If you happen to have a new baby in the family this spring, you'll want to make this Easter egg-stra special (and candy-free). We love the Squeakaboos line from Babalu. These brightly colored, soft plush rattles are sized just right ...

Talking Walnut

Pamela Brill

April 9, 2014

Songs for Sleepytime: Laurie Berkner Lullabies

When I first heard that Laurie Berkner was releasing her first-ever lullaby album, I practically ran to put on my PJs and jump into bed. Having spoken with her on the phone for an article in a local parenting magazine, I can instantly recall her soothing voice, one that would be ideal for assuring a good night's sleep for any tired tyke. Sure enough, Laurie Berkner Lullabies offers up plenty of reasons to grab a blankie and settle down for the night. Among our favorites are "Fireflies," a nod to our favorite season and its magical creatures, and "Pillowland ...

Savvy Store Solutions

Carol Schroeder

April 8, 2014

"Fifty percent of retailers and brands will disappear," according to the future predictions made by Robin Lewis and Michael Dart in their recent book The New Rules of Retail: Competing in the World's Toughest Marketplace (Palgrave Macmillan, 2010). And as dire as this may sound to independent retailers, it turns out that the authors don't even factor us into their study. They are actually saying that 50% of the consumer businesses that compete with us are endangered! Whether this is good news or not is a matter of interpretation. However their study of changes in shopper behavior obviously ...
View All Blogs
Make sure you've got all the essentials for your shoppers' picnic and tailgating needs. From melamine plates to totes for beer and wine (even a tote for a pet!), these are must-have items for your store's shelves.
View All Slideshows
Donny Osmond Shows Home Collection at Vegas

GDA Editorial Director Warren Shoulberg talks to Donny and Debbie Osmond at the Las Vegas Market about their new Donny Osmond Home Collection. The multi-category home furnishings line features home decor, lighting, bedding, dinnerware, rugs and home improvement products. (Our Las Vegas Market videos are sponsored by the International Market Centers.)

More Videos
The company's newest contemporary home theater group features a raspberry leather cover. USA PREMIUM LEATHER
C-1440, C-1432