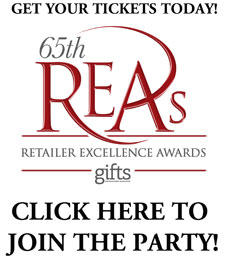 Celebrate Retail and Gift Industry excellence at the 65th annual REAs! Registration is open so be sure to get your tickets before they sell out. The REAs will be held Sunday August 21, 2016 at The Lighthouse on Chelsea Piers. Cocktail Hour starts at 6:00 pm. Don't miss out on the Gala Event of the Summer!
Get Tickets!
Savvy Store Solutions

Carol Schroeder

June 22, 2016

"We've tried that and it didn't work." "That might be practical for big stores, but not for us." "Our customers don't like ____." "We can't afford to do that." There are so many reasons to reject an idea that an employee comes up with. And we know that not every suggestion is going to be practical, or successful. But one of the advantages of being an independent retailer is that you can afford to try something new, and to do it quickly. The truth is that you won't know which idea is a good one ...
View All Blogs