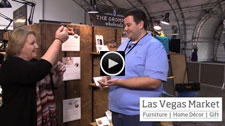 The Grommet's Jason McCarthy shares his view on the company's performance in the Las Vegas Market Pavilions and gives Gifts and Decorative Accessories a peek at some of their products with gift appeal. Click to view! Video coverage sponsored by International Market Centers.
Savvy Store Solutions

Carol Schroeder

February 10, 2016

When email became a prominent form of communication, many predicted that greeting cards would become extinct. And while it is true that there has been a decline in card sales since the heyday, the Greeting Card Association reports that card sales have actually held steady in recent years. This is in part due to independent card companies that are finding a way to be relevant in today's market. Big businesses like Hallmark, on the other hand, are suffering. According to a recent NPR story , Hallmark has closed numerous stores and slashed its workforce from almost 22,000 full timers ...
View All Blogs