Frequent flyers will get a kick out of Flight 001's travel pouch that reads: "I Survived the TSA." More ...
Retailer Excellence Awards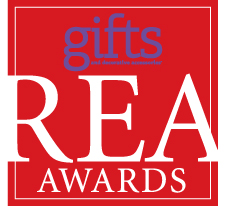 63rd Annual Retailer Excellence Awards.
Fill out your entries today!
• REA Entry Form
• Rising Star Nomination
• Sales Representative Nomination
Re:Gifting

Warren Shoulberg

April 23, 2014

This past weekend saw the seventh year of a fascinating promotional marketing event that could be something the independent gift store business should be looking at. It was called Record Store Day and basically, it was a shopping day that called attention to the idea of consumers physically going to their local record/music store and shopping in person for CDs and vinyl. Some 2000 stores participated in the event which is loosely organized by the stores themselves with some professional organizing help. (www.Recordstoreday.com has more details.) This is still very much a small enterprise in a day ...

Savvy Store Solutions

Carol Schroeder

April 16, 2014

Cooperation and collaboration are essential to the success of most small retailers -- whether it is through your local buy local movement, Chamber of Commerce or merchant association. Now there is a new tool available to help business owners connect, thanks to Eric Groves, a former senior executive of the online marketing company Constant Contact. Groves is the co-founder of a start-up business called Alignable, which describes itself as a free, online social network where business owners can connect, collaborate and learn from each other. He described it as a "LinkedIn for local businesses" in a recent interview with the Boston ...

Talking Walnut

Pamela Brill

April 15, 2014

Stuff My Basket: Rabbids, Squeakaboos

Less than one week until Easter; are your baskets ready for stuffing? Gone are the days when I was a kid, and chocolate bunnies and jelly beans would suffice. Ever since the Easter Bunny has stepped things up a notch to include toys and other goodies, we've been on the hunt ourselves in search of fun favors. If you happen to have a new baby in the family this spring, you'll want to make this Easter egg-stra special (and candy-free). We love the Squeakaboos line from Babalu. These brightly colored, soft plush rattles are sized just right ...
View All Blogs
Make sure you've got all the essentials for your shoppers' picnic and tailgating needs. From melamine plates to totes for beer and wine (even a tote for a pet!), these are must-have items for your store's shelves.
View All Slideshows
Donny Osmond Shows Home Collection at Vegas

GDA Editorial Director Warren Shoulberg talks to Donny and Debbie Osmond at the Las Vegas Market about their new Donny Osmond Home Collection. The multi-category home furnishings line features home decor, lighting, bedding, dinnerware, rugs and home improvement products. (Our Las Vegas Market videos are sponsored by the International Market Centers.)

More Videos
The company's newest contemporary home theater group features a raspberry leather cover. USA PREMIUM LEATHER
C-1440, C-1432