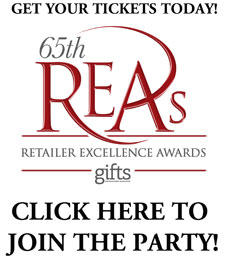 Celebrate Retail and Gift Industry excellence at the 65th annual REAs! Registration is open so be sure to get your tickets before they sell out. The REAs will be held Sunday August 21, 2016 at The Lighthouse on Chelsea Piers. Cocktail Hour starts at 6:00 pm. Don't miss out on the Gala Event of the Summer!
Get Tickets!
Savvy Store Solutions

Carol Schroeder

July 18, 2016

Making Happy Money One of the interesting social science experiments in Elizabeth Dunn and Michael Norton's Happy Money has to do with expiration dates. They discovered that consumers logically said they would prefer a gift certificate to a local pastry shop with a two month expiration date rather than a three week deadline. But in reality, only 6% of the consumers used the two month certificate, whereas 31% redeemed the one with a three week expiration. Their conclusion is that the limited time window encouraged people to seize the opportunity, because it seemed more like a treat. And while ...
View All Blogs