2009 Product Preview
Can't make it to Dallas? Here are some of the toys Fall Toy Preview attendees will be seeing at the show
Cliff Annicelli, Staff Staff, October 1, 2008
Alex
The Silly Sounds Target Game, for ages 3 and up, joins Northvale, N.J.-based specialty toy maker Alex's tub toy line. Kids can shoot water at a monster-themed target that attaches to a tub's wall via suction cups. Each target makes three silly sounds. It uses three 1.5V button cell batteries.
Animal Adventure
Animal Adventure, the Manhattan Beach, Calif.-based producer of proprietary and private-label plush, is bringing several international properties to American retailers in 2009.
FABric Animals is a new range of green-themed plush and plush pet toys from UK design studio Bang on the Door. Based on the original Bang on the Door Animals, the collection includes 13 contemporary-flavored designs. The line's fabrics and stuffing, as well as its packaging and hangtags, will be environmentally friendly. Animal Adventures' license for the line is part of a larger merchandise push for the brand in the U.S. led by The Sharpe Co.
Withit, a 17-year-old lifestyle brand from the U.K., features 16 animal characters (like Cheeky Monkey, Glamour Puss and Easy Tiger) that today live in their own animated online world. Animal Adventure's program will include a retro-styled range of backpack-clip toys, gift plush and pillows.
The company is also tapping into the latest iteration of Santoro's Jeli Deli brand, Tinami. A lifestyle collection featuring edgy, funny animals with attitude, Adventure Animal's Tinami assortment will include magnetic mini plush animals. Each character will come with its own tin home.
Basic Fun
Southampton, Penn.-based Basic Fun this month previews an assortment of handheld electronic games, toy and figural keychains featuring several popular boys' licenses.
With Cartoon Network, Basic Fun plans two lines of Ben 10 products. Continuing to expand its line of handheld electronic games, the company will introduce a Ben 10 handheld featuring game play consistent with the show, its aliens and their powers. Basic Fun will also offer two series of figural keychains, with each featuring three unique characters.
For Bakugan, Basic Fun has created Bakugan Battle Brawlers Mega keychains. The products feature the familiar Bakugan Battle Brawler ball in a slightly oversized format, and each springs open and morphs into one of six Bakugan fighters. Two series of the keychains will be issued.
In 2009, Basic Fun will also expand its Star Wars Saga and Clone Wars figural keychains and Stack Ems assortments. Each figural keychain features a highly detailed version of a favorite character or vehicle from the Star Wars/Clone Wars universe. The Stack Ems keychains feature stylized versions of Star Wars movie characters that are designed to lock into each other, creating a stack or tower. Each Stack Em also features a d-clip that can be attached to a backpack, messenger bag or zipper. In all, 12 figural keychain designs and six Stack Ems will be released.
In a similarly intergalactic vein, Basic Fun will introduce multiple styles of Star Trek keychains. Designs will be based on the original Star Trek series, The Next Generation TV series and the upcoming Star Trek The Movie. The assortment will include a Star Trek Communicator Talking Keychain, a replica of the original series' communication device; and, based on Star Trek The Movie, Basic Fun will offer a miniature of the film's version of the Enterprise. Additionally, Basic Fun will offer an assortment of other iconic Star Trek vehicle keychains.
For comic book fans, Basic Fun will unveil Marvel superheroes, led by Stack Ems keychains of Wolverine, Iron Man and Spider-Man. And, by popular demand, the company will reintroduce its original Spider-Man keychain with retractable spider web.
BBC Worldwide
BBC Worldwide, London, will look to keep fans of its Planet Earth series—and its upcoming Earth feature film—satisfied in 2009 with new products from master toy licensee Planet Toys, publisher Scholastic and puzzle producer The Canadian Group.
Planet Toys plans a new collection of Planet Earth-inspired playthings in several categories.
The toymaker's Planet Earth 3-D View Finder offers kids a 3-D slide show of animals in their indigenous environments.
Planet Earth Solar Night Globes light up via solar energy absorbed during the day to display Planet Earth animal imagery and scenery. Styles include Polar Bear, Elephant and Humpback Whale. An included battery-powered light at the globe's base allows it to double as a nightlight.
Planet Earth Miniature Ecosystems let kids grow and wear their own tiny ecosystems keychains or pendants. They grow in clear colored gel that acts as soil and a nutrition source.
The toymaker will also unveil a new line of plush, in four sizes and featuring new animals.
Scholastic's Planet Earth children's book publishing program continues in 2009 with five new titles, each printed on 30 percent post-consumer waste recycled paper. In January, Scholastic will issue Planet Earth: Board Book, designed for infants and toddlers and featuring baby penguins; and Planet Earth: Reader #2: Wild Amazon, for kids ages 4 to 8, that features simple text and full-color photography. In April, the company will release Planet Earth: Guide to the Planet, a coffee table-style large hardcover edition; Planet Earth Scrapbook #2: Amazing Animals of the Rainforest, a 48-page scrapbook featuring extreme images and amazing facts about the animals of the rainforest; and Planet Earth: Big World, Small World, which focuses on some of the planet's largest and smallest creatures.
The Canadian Group in spring 2009 will launch a line of 2-D and 3-D cardboard puzzles featuring official Planet Earth images. The line includes an assortment of 100-, 500- and 1,000-piece puzzles, as well as a 3-D PuzziSphere and multi-packs. The puzzles and packaging will be made from 95 percent recycled content.
Cardinal Industries
Cardinal Industries, Long Island City, N.Y., expands its core game line with additional licensed products, including Disney, Nickelodeon and ESPN designs.
Based on next year's Toy Story 3, Cardinal has created The Alien Claw Game and a 3-D Toy Story Game Tub with classic Toy Story games such as Buzz Bingo and Woody Dominoes included.
Wizards of Waverly Place, the Disney Channel series, will soon have a board game called Pick Your Potion that lets players cast spells and conjure potions with a magic wand. There will also be a Wizard in Training card game based on the property. Other Disney TV series with new Cardinal game tie-ins will include Phineas and Ferb, Little Einsteins and Handy Manny. Disney Princess, Cars and preschool characters such as Mickey, Tigger and Pooh, will also be the focus of new product. Cardinal's line of mini games gets Fairies card games and dominoes.
New Nickelodeon games from Cardinal include board game and card game versions of iCarly Charades. Several classic games, including Chinese Checkers, card games and dominoes, will be themed around Ni Hau Kai Lan, Nick's latest preschool series. SpongeBob's 10th anniversary will be celebrated with new games and new packaging as well.
A trivia game is planned based on the Gossip Girls TV and book series. And football fans will be able to play along as they watch football games on TV using Cardinal's ESPN Card Game.
Cookie Jar Entertainment
Hot on the heels of last month's debut of a refreshed and extended line of exclusive products at Wal-Mart, Cookie Jar, Toronto, has new Mommy & Me products in the pipeline.
The new Sing N Play Musical Guitar, for ages 18 months and up, is a 2-in-1 musical toy that includes a guitar for the child and a detachable tambourine for Mom. The guitar's character buttons make animal noises while its shape buttons play songs and add jungle noises.
Splish Splash Slide, for toddlers age 2 and up, is like having a miniature water park right in the bathtub. Thanks to plastic slides that attach to the tub, kids can pump water from the tub onto the slide then allow the set's characters to go for a water ride.
ABC Blocks, for ages 18 months and up, is a 50-piece alphabet block set.
Courage International
Courage International will grow its pen-based Kooky Klickers property with several new SKUs.
Krazees is a line of Kooky Klickers designed especially for boys. It focuses on "gross, weird and gooey stuff" and will have a similar look to traditional Kooky Klickers, but more irreverent.
Kliques is a line of Kooky Klickers for girls that focuses on role playing, social networking and sports.
The original Kooky Klickers line will expand to include licensed characters, specifics of which have not yet been announced.
Also joining the Las Vegas-based company's line is Fuzzy Luck, a stylish update of the classic rabbit's foot charm. Original and license-bearing Fuzzy Luck charms will be offered.
DuneCraft
DuneCraft's lineup for 2009 includes a mix of its traditional grow-your-own plant kits spiced up with an assortment of gross-out chemistry-based products.
Curious George Fly Traps Micro Terrarium is a themed terrarium stocked with meat-eating Venus Fly Traps.
The Chagrin Falls, Ohio-based firm's Amazing Moving Plant Collection lets kids either grow their own ancient Dinosaur Plant, which comes back to life by simply adding water; or witness the unique Sensitive Plant, which wilts and bends over when touched, moved, exposed to loud noises or put in darkness.
DuneCraft's new Medieval Herber lets kids grow an assortment of plants commonly used in the Middle Ages for food, medicine, paints and other household purposes.
Kids can do their part to help save the Earth by planting a real tree using DuneCraft's Grow Your Own Red Maple Kit. It comes complete with seeds, germination mixture, a plant stake and a biodegradable coconut coir pot that the tree can be planted in outside. Five percent of the proceeds from the kit will be donated to the Arbor Day Foundation.
DuneCraft's Banana Bonanza lets kids ages 4 and up grow their own bananas from seeds using a seed-starting greenhouse.
The company's science assortment will soon include three gross-out impulse products: Yellow Snow, a kit that produces highly lifelike, reusable "snow"; Spit Balls, a package of clear balls that grow to 200 times their initial size by adding water; and Skeleton Pellets, a kit that lets kids construct their own mole, starling or vole skeleton. Each pellet contains an entire skeleton made from synthetic materials. Each Skeleton Pellet Bag of Knowledge contains a magnifying glass, a Skeleton Pellet, a bone-sorting chart and additional accessories.
Elmer's Products
New York-based Elmer's Products will introduce a variety of new arts, craft and science products—some with new licenses attached—designed to educate and engage kids from toddlers to tweens.
Elmer's Kinder-Ready is the company's first line of early learning products. It features artwork from The World of Eric Carle and includes eight educational items specifically designed to help preschoolers build the skills they need to have a successful, fulfilling kindergarten experience.
Based on the Discovery Channel series, MythBusters science kits let kids determine for themselves the truth behind several well-known urban legends, just like the TV series' stars do. The kits will follow a "trial and error," hands-on format, allowing kids ages 8 and up to "bust" myths related to everything from aviation and air pressure to water and simple machines.
Science experiments will get a lot more appetizing with the latest additions to Elmer's Food Science line: The Chocolate Activity Kit and The Pizza Activity Kit.
With help from Disney, Elmer's will market portable arts & crafts activities designed to engage and entertain on-the-go kids. The new Elmer's travel line features Disney properties like Camp Rock, Cars, My Friends Tigger & Pooh and Toy Story in kits that include wallet-size scratch art activities; zip-up portfolios designed to keep coloring activities off the car floor; roll-up pouches filled with markers, stickers and pads of paper; and backpacks that fold out on kids' laps to become all-in-one art studios.
Endless Games
The company name may say games, but Endless Games, South Amboy, N.J., is bringing a variety of products to Dallas this year.
Endless will enter the puzzle business in 2009 with three 1000-piece jigsaw puzzles celebrating the 10th anniversary of the Broadway musical Wicked. The company's debut puzzle line also features designs from several prominent artists.
For its core game line, Endless will follow up next month's launch of its debut Million Dollar Password board game with a DVD version. For the family, the company has created Quackgammon: A Quick and Quacky Backgammon Game, for ages 8 and up; and X-Cetera, a tic-tac-toe-based game in which somebody always wins.
Endless also continues to build on its Collect-A animal figurine line with a selection of new styles.
The Goldberger Company
For 2009, New York's The Goldberger Co. will introduce a number of toys under two new sub-brands, Comfort Kids and Seedlings, and also expand its Basic Training line of learning toys and dolls.
Goldberger's Comfort Kids line has been designed specifically to relax and calm babies and young children. It includes Belly Brites, dolls that calm and reassure thanks to light-up tummies that change color in soft, relaxing sequences.
Seedlings are a series of natural fiber dolls made with freshly-picked cotton fabrics completely free of harsh chemicals and dyes.
The company's Basic Training line will continue into 2009 with a new Look & Learn series of toys featuring black and white patterns for early development and a line of dolls that teaches basic manners, like saying "please" and "thank you."
Green Rock Entertainment
Chicago's Green Rock Entertainment looks to keep kids cootie catching with its Cahootie game.
Cahootie is a colorful, modern version of the classic fortune telling game that is themed, rip-resistant and comes with 40 reusable stickers and a keepsake display case. The game encourages creativity and social interaction with thought-provoking (and mom-approved) questions, challenges and fortunes that players randomly select. Versions of the game include Wishes & Dreams, Truth or Dare, Birthday Wishes, Sporty Girls, and Republican and Democrat. Out next month are two additional themes: My Fab Future and Would You Rather.
I Can do That! Games
I Can Do That! Games, the Seattle-based game company formed by a former Cranium executive, has signed an exclusive multi-year licensing partnership with Universal Studios Consumer Products Group to develop games based on the Curious George TV series. The company plans to launch three Curious George-themed preschool games in 2009. Details of the games have not yet been announced.
Jada Toys
Jada Toys, City of Industry, Calif., has signed a deal with licensor DCI Los Angeles to bring to market a range of toy vehicles with figures based on the animated TV series Chop Socky Chooks.
Available at mass market and other retail stores nationwide beginning in January, the initial toy roll-out, featuring "urban vinyl" design cues, will include an assortment of six 3.5-inch Motorized Pullback Vehicles, two 5-inch Motorized Quadbikes with 5-inch articulated action figures; and three 7.5-inch Friction Vehicles with 3-inch articulated action figures.
Jakks Pacific
Malibu, Calif.-based Jakks Pacific will move into 2009 with extensions to many of its more perennial license-based lines.
For the Cabbage Patch Kids brand, which is currently celebrating its 25th anniversary, a new Cabbage Patch Originals series features a collection of favorite faces, hairstyles and looks seen on Cabbage Patch Kids over the course of the dolls' history. Each comes with a birth certificate, adoption papers and a one-of-a-kind name and birth date. Cabbage Patch Kids Fairies are fairy themed versions of the Cabbage Patch Kids, each themed after a favorite flower.
For Disney's Camp Rock, Jakks adds a trio of Singing Dolls. Available individually or as a two-pack, the Shane and Mitchie dolls feature authentic Camp Rock fashions based on key musical performances in this summer's film. Also sold individually is a Tess Tyler Singing Doll. All three dolls come with themed accessories.
For Hannah Montana, Jakks adds a Quick Switch Doll that changes from Miley to Hannah in mere seconds; a Remix In Concert Collection, two dolls that sing Hannah's latest remix songs and are dressed in Hannah's new, 80s-inspired looks; and the Movie Collection—Doll and Horse, a set inspired by next May's Hannah Montana movie.
Curious George stars as an M.D. in Jakks' Curious George Doctor Monkey Feature Plush. He comes wearing a lab coat, and is packaged with all the traditional physician's equipment.
Japanese import Domo, the loveable cave troll, returns in 2009 in three sizes of plush. The mid-sized plush has poseable arms.
SpongeBob SquarePants also gets the plush treatment in four themes reflecting fan favorite episodes, plus an accompanying DVD.
NASCAR fans have two new reasons to cheer. Pit Scenes come with a car, four pit crew figures, kit accessories and pit row base, while the NASCAR 3 in 1 Racing Set includes a motorized car, a gas can charger and a complete track.
Armed with the Star Wars license, Jakks introduces an assortment of air-powered flying Air Slammers vehicles that come with crash and stunt accessories. The Air Slammers Star Wars Classic Battle Set lets kids re-enact the classic Luke Skywalker X-Wing versus Darth Vader Tie Fighter battle. The Air Slammers Star Wars Multi Launcher is a deluxe, rapid fire launcher that comes with four Star Wars vehicles.
For additional outdoor play, Jakks has created Star Wars 3-D Kites based on three classic spaceships; a Star Wars X-Wing Fighter Deluxe Inflatable Ride-On; and Creature Cannons, molded heads of several characters that are plunger-style squirt toys.
The company's proprietary In My Pocket pets line expands with several introductions. Pony In My Pocket Stylin' Pets are bigger versions of preceding Pony In My Pocket products. They feature rooted hair that can be styled using several included accessories. Puppy In My Pocket & Friends Fantasy Collection Jewelry Packs & Little Homes are a menagerie of collectible pets offered in a rainbow of "fantasy colors," that includes Glitter Homes with three pocket-sized Fantasy Color Pets, or Jewelry Packs with locket necklace, bracelet or clip on, as well as three charm-sized Fantasy Color Pets. Puppy In My Pocket & Friends Newborn Care Center is a two-level pet playset (pictured on previous page).
Jakks' TV Games assortment grows by three titles: Retro Arcade TV Games featuring Pac-Man, a compilation of 12 classic video games from the genre's golden days; The Price Is Right TV Games, based on the current version of the long-lived game show; and Cinderella TV Games, based on the classic Disney Princess character.
K'nex Brands
K'nex Brands, Hatfield, Pa., will put up a fight in '09 with its new Battle Zone building sets.
Created for kids ages 7 to 9, Battle Zone debuts in January with two SKUs: Clashing Knights and Dueling Dragons. Kids can build them separately or go head-to-head. Both sets come with more than 150 pieces to build two brawlers with mechanical battling capabilities. Exclusive K'nex rods and connectors, bricks and K'nexmen are included. Both products come packaged in individual canisters where the top and bottom plastic lids become battling platforms.
Lafayette Puzzle Factory
Lafayette Puzzle Factory, a new Lafayette, Ind.-based puzzle company founded by former Warren Industries exec J.P. Clauson, will enter 2009 with a full line of puzzle designs.
Chalkboard Puzzles are 3-by-2-foot floor puzzles that feature large illustrations by a well-known children's artist of a school yard at recess. Children can use the chalk included with the puzzles to draw on the images just like they would with a traditional chalk board.
TrickShot 500 is a line of puzzles that combines jigsaw puzzling with the challenge of trying to spot more than 20 differences between the image on the box and the puzzle itself.
Window Cling Puzzles are large, 24-piece foam puzzles with big, sturdy pieces that stick to windows, walls and refrigerators without the use of glue or tape and without leaving any residue once removed.
The company's notable artist puzzles debuting in 2009 are Bob Languish 30-piece Fantasy Horses, a series featuring images by the noted animal photographer; and a 9-inch Royce McClure Puzzle Planet, a one-of-a-kind spherical image of McClure's famous Clown Fish. It's the first of a planned series of new spherical puzzles.
Scrapkins 100-piece puzzle and recycling activity features a group of friendly monsters who live in a recycling center. Included in the puzzle is a poster with a craft project using recyclable materials from around the child's house.
The 500-piece Round Wood Deluxe combines two popular formats—wood puzzles and round puzzles—for a series of 19.5-inch designs that debuts with artwork from Barbara Mitchell.
SilverLined Foil 750-piece Puzzles feature a foil stamping technique first tried in Russia to enhance the other-worldliness of its designs, which are provided by fantasy artist Jody Bergsma.
9-inch Puzzle Planet 3-D is a sphere puzzle of planet Earth that uses curved plastic pieces that snap together to create a globe Lafayette says it is suitable for displaying.
Puzzle Ornaments feature Christmas illustrations and can be built into 3-inch-diameter, snap-together holiday ornaments.
The Learning Journey
The Learning Journey International comes to the Fall Toy Preview with several new or updated life skills toys for preschoolers.
Cash Cow is both a game and a savings bank for children. It identifies coins, and its LCD screen tallies deposits and teaches children what coins make up certain values. To access the money, kids pull the cowbell and watch the coins come out.
Telly the Teaching Time Clock teaches children ages 3 and up both analog and digital time. The 2009 version features a standard 24-hour clock and also includes a night light. A matching child-sized digital Telly watch is also included. It comes in either pink or yellow.
The Chatterbox Teaching Telephone is updated for 2009 to include a recording mode with which children and parents can leave messages. It has a flashing red nose to tell children when a message is waiting and comes with a phone message pad. Its friendly voice also interacts with children to teach numbers, colors, shapes and other useful knowledge.
Mega Brands
Montreal's Mega Brands has two new building systems up its sleeve: the older-skewing Struxx and the preschool-appropriate Miniblocks.
Struxx gives kids the power to build on a "super" scale and using Wide Motion components like a gearbox, motion detector, sounds and lights. It's all done with three basic pieces: a ball, a socket and a rod that click together. The system includes the Basixx Tube, tube-shaped packaging that can be used as storage and includes a cover that doubles as a build-off plate; and Skinzz, realistic skin membranes to enhance and add detail to Struxx builds.
Miniblocks is the new construction system that offers "superior" piece count, special parts, a build-off plate and creative building ideas designed for preschoolers. The assortment includes color palettes like Classic and Pink, and comes in packaging that doubles as a storage container.
Also for preschoolers is the company's Lil' Vehicles assortment. It offers little builders a selection of construction vehicles, including dump trucks and tractors, that come with Mega Bloks building blocks and figurines.
The company also has knights and dragons on its mind for 2009 with the new Legends: King Arthur construction set series that allows kids to bring figures to life through MicroMotion controllers. The line's Merlin's Dragons assortment features sets that come in play packaging featuring a dragon's claw grasping a crystal ball. The finger from the dragon's claw transforms into a MicroMotion controller enabling kids to bring the dragon to life by making it flap its wings and breathe "fire." There are four dragon sets.
Kids can recreate extreme street sport scenes with Xlife, an extreme sports-themed building system that lets kids perform skateboard and bike stunts using MicroMotion controllers. The Xlife Action Set series offers two stunt sets: Vert Madness, which features a big-air vert ramp and a working garage door; and Flair Pipe, a full pipe that can be rebuilt into various half-pipe configurations. Each set comes with two MicroMotion figures, an electronic dual-action controller, a bike, two skateboards and customizable wheels. Two additional assortments will also be offered.
National Products
The Mini Cooper celebrates its 50th anniversary in 2009 and National Products Ltd., Fairfield, N.J., will be right on top of the action. The company has created an officially licensed Mini Cooper Ride-On that travels at speeds up to 2.5 mph in forward and reverse. The car also boasts a beeping horn, FM radio, chrome wheels and accents and optional blue or pink coloring. It's powered by a 12-volt rechargeable battery.
Playmind
Hong Kong's Playmind has new remote-controlled vehicles in the pipeline.
The company's new Dark Fighter is a micro-sized flyer that, thanks to tri-band technology, can be flown in a squadron of three. Lightweight and unbreakable, according to Playmind, its infrared control system gives the Dark Fighter a 26-foot transmission range. It charges through its controller.
The U-Boat works in water like a boat or a submarine. It's fully controllable in any direction under water and boasts LED lights at its bow. It can be used in fresh water, pools and fish tanks.
Pressman Toy
Pressman Toy, New York, introduces several new games for 2009, including adaptations of a few international favorites.
Popular in the United Kingdom, the electronic Splashy the Whale game for ages 5 and up challenges players to reach into Splashy's mouth to retrieve all kinds of rubbish, being careful not to tickle his tongue as he bobs around on the waves or risk getting sprayed with water.
Pass the Bomb, for ages 12 and up, is a quick-thinking word game in which players flip over a card to reveal a syllable and then roll a three-sided "tick, tock, boom" die to see where in a word the syllable can be used. Players start the bomb and take turns shouting out words that include the syllable in the beginning, at the end or anywhere within the word, depending on the roll of the die. Because the bomb's fuse length varies, players can have anywhere from 10 to 60 seconds to shout out their word before passing the bomb to the next player. The player with the bomb when time is up gets stuck with that round's syllable card. The player with the least syllable cards at the end of the game wins.
Mr. Men 4-in-a-Row Game features Chorion's characters in a game for ages 6 and up. It's a fast-paced race to get 4-in-a-row. The Mr. Men Pop 'N' Race Game asks players ages 5 and up to help Mr. Tickle, Little Miss Daredevil, Little Miss Chatterbox and Mr. Bump make their way home on a Trouble-style pop-and-move game board.
Animal Instincts is an offbeat card game for ages 8 and up in which players try to attribute human traits (like "evil genius") to any of their animal photograph cards, then have the game's judge agree to their choice over the competition's.
Revell
Space is 2009's frontier for Revell, Northbrook, Ill., thanks to new NASA and Star Wars model kits.
Its NASA series includes a 1/48 Lunar Landing kit that contains scale models of the Apollo 11 astronauts dressed in their moon-walking suits, their photographic and scientific equipment, the American flag which they planted, the lunar module and a display base molded to simulate the moon's surface, complete with footprints; a 1/32 Apollo Spacecraft, the two-part ship (Command and Service modules) that transported the astronauts to the moon; and a 1/144 Apollo Saturn V Rocket, the iconic three-stage booster rocket that sent all of the Apollo missions aloft. It includes a launch pad display stand.
Revell's Star Wars Mini Snap Kits include Anakin's Jedi Starfighter, the Clone-crewed ARC-170 Starfighter and the sleek TIE Interceptor.
Russ Berrie
Russ Berrie and Co., Oakland, N.J., is gearing up for spring sales with Easter-themed plush, home decor and personal accessories for little girls.
The company's plush line for spring 2009 includes an expanded collection that features chicks that chirp; ducks that quack; eggs that giggle; and the Everybunny Loves Somebunny Bunny Bear (pictured), a teddy bear in rabbit ears that grooves to a song.
Natural Beanie Buddies are beanbag plush in three different colored bunny designs.
The Fleecia Lamb Family is an assortment of lambs in four sizes. Each wears a gingham bow.
Flopsalots, in bunny or lamb styles in two sizes, have heads that flop down onto their soft bodies, while Tuddles Turtle is offered in two sizes. Mini Snails are plush snails with extra large eyes.
Baskets Buddies are plush baskets that come with matching clip-on characters offered in four styles: Frog, Lamb, Chick and Bunny. Spring Surprises characters come with special surprises found in the colorful egg each holds.
Dressed In Our Beary Best are miniature costumed teddies created in three styles, while Eggs with Legs are just what they sound like, available in purple, pink or blue. Each Egg giggles when squeezed.
Russ' home decor line includes a Child's Baking Set, with everything needed to practice culinary skills. The set comes complete with egg and bunny cookie cutters, apron, baker's hat and recipe cards.
For summer sales, Russ has cooked up Camp Critters, an eight-SKU line of newborn animal plush, each with its own sleeping bag.
Russ's personal accessories assortment includes necklaces, charm bracelets and earrings.
Sabamba
Sabamba's Bugabike is a pedal-free, brakeless "running bike" that's designed to give preschoolers a chance to build up their balance better than they could with a tricycle or a traditional training-wheels equipped bicycle.
Available in Natural and Sport versions, Bugabike boasts a wooden body and wheels, and inflatable tires. It weighs from 7.7 to 8.8 pounds, and it grows with a child thanks to a height-adjustable saddle.
Spin Master
Toronto's Spin Master looks to keep the excitement surrounding its Bakugan Battle Brawlers building with new Series 2 SKUs.
For 2009, the company promises new, advanced game play and rules designed to enhance battle strategy; new balls, monsters, heroes, villains and powers; an extended line of accessories designed to enhance storage options as well as game play; and more deluxe figures for increased collectability. Two products announced in advance of Fall Toy Preview are the Bakugan Display Case, a lightweight carry case that comes with one new large-size Bakugan; and the Bakugan Hand Launcher, which lets Bakugan balls do backspins, sidespins and other advanced shots.
Spin Master's Air Hogs line adds the Wind Chaser Stunt Kite, a real stunt kite guided by a remote control. Patented servo technology allows it to do tricks such as loops, turns, and swoops with the push of a button. Its handle doubles as a cord-winder.
Magic Fabric is a new brand for fall 2009. It's designed to be a "mess-free" arts and crafts toy that features a soft material that "magically" sticks together permanently to create fun and colorful characters and designs without requiring heat or glue. The Magic Fabric Studio leads off the line.
The PixOs activity system adds a 3-D Character Kit that lets crafters create 3-D PixOs creations for the first time. It includes the necessary supplies to make six PixOs animal designs using 600 PixOs.
Tech Deck gets a new Display Case that lets collectors create a wall display, or can be used as a carrying case thanks to its hinged handle. It holds up to 16 Tech Deck 96 millimeter boards and comes with one complete Tech Deck board.
Tini Puppini Sparklini Salon glams up Spin Master's Tini Puppini plush pups with help from 60 Reusable Sparklini Hair Sparkles.
Sprig Toys
Sprig's Eco-Trucks are a trio of eco-friendly trucks made with recycled materials.
The follow up to the Fort Collins, Colo.-based company's Sprig Adventure Series toy vehicle line, the new Eco-Trucks have no paint and are made with earth-friendly Sprigwood, a child-safe bio-composite of recycled wood and reclaimed plastic.
Each truck is equipped with a flip-open cab and easy-grab handles. Individual features include mechanical dumping action for the Dump Truck, mechanical scooping action and a rotating chassis for the Excavator, and a rotating chassis and mechanical scooping and lifting for the Lifter.
The new Eco-Trucks Sandbox is a 58-inch wide playspace also made from Sprigwood material. The modular, bottomless sandbox is assembled using six stackable, interlocking sections. A fabric liner and cover are included. It will be available in January.
Tara Toy
Tara Toy is offering new impulse items across several brands. Some are mini versions of items in the Hauppauge, N.Y.-based company's current line, such as the Tinker Bell Scratch & Design, Disney Princess Shrinky Dinks and the Barbie Magic Reveal Pads. Other items, like the Disney High School Musical Fortune Tellers and mini Etch A Sketch, are brand new to the line.
The company's Twinkle Magnets are magnetic scene boards with characters that light up. They are offered in several Disney themes, including Princess, Fairies, Cars and several Playhouse Disney characters, as well as in a Barbie set.
Techno Source
Techno Source's new products range from an electronic egg hunt game and wacky yakkin' animals to the addition of a new item in its Rubik's Revolution line, plus additional Disney tie-ins.
Hide 'Em & Find 'Em Eggs puts a twist on the standard egg hunt game. Once the eggs are hidden, they being to talk, laugh and make noises as kids try to find them. Open them up to see the cute bunny or baby chick say, "You found me!" The eggs come in six colors and have five different speech lines and three different sound effects.
Animal Yakkers start talking when shaken, and the faster they're shaken, the funnier they sound. They will come in three designs: cow, pig and lamb.
Rubik's Revolution Titanium Edition comes with voice, lights, and sound effects. It updates the original Revolution with new electronic features to improve game play and adds more challenges to master. It also saves high scores and has a new metal look and texture for a better grip.
Disney 'Bots are miniature, electronic Disney character robots. Each character has unique personality, emotions, expressions and reactions, all shown on electronic LCD faces. Characters include Mickey Mouse, Minnie Mouse, Winnie the Pooh, Tigger, Steamboat Willie, Goofy, Pluto and Donald Duck.
Disney Interactive Coloring Books are single-player, plug-and-play TV interactive games. The debut assortment includes Disney Princess, Disney/Pixar's Cars and Mickey Mouse Clubhouse.
Disney Handheld LCD Games let users play as their favorite character and boast color screens. Disney Keychain LCD Games are backpack-ready games based on several key Disney properties.
10Vox Entertainment
10Vox Entertainment follows up this summer's KooKeys: The Next Generation virtual world-enabled toys with a new boys property, Tracksters.
Set to debut this month, Tracksters has been dubbed the world's first virtual die-cast car. Players can tune their virtual vehicles to maximize their chances of success on a variety of race tracks, from traditional ovals to dirt tracks, drag strips and other challenging courses. The initial product line is a collection of 24 collectible die-cast cars and trading cards.
This fall, 10Vox's KooKeys brand also gets a new set of plush friends, including limited-edition collections of Halloween and holiday-themed KooKeys.
ThinkFun
ThinkFun, Arlington, Va., introduces three products at the Fall Toy Preview.
Hoppers Jr. is a peg solitaire game where players choose a challenge and place their big red and green frogs on the playing board to match the picture shown. Players hop all of the frogs around the pond until only the red frog remains.
Clever Castle (pictured on page 42) teaches kids how to use problem-solving and process-of-elimination skills in a pattern matching game to help nine guests find their rooms in the castle. When every princess, knight and dragon finds their assigned room, kids can flip the card to confirm they are correct.
ThinkFun calls 36 Cube "the world's most challenging puzzle." Players must place towers according to two simple rules: there must be only one of each colored tower in every row and column, and the towers must form a perfect cube in the base.
ToyQuest
ToyQuest, Los Angeles, will add more backyard action to kids' lives in 2009 with the Titan Blast Rocket. For ages 8 and up, the 7-foot-tall inflatable rocket soars more than 100 feet in the air. It's powered by water using a simple pump mechanism to pressurize the rocket. It has a soft body for safety.
ToyQuest also strides into the action figure arena with a toy line based on DreamWorks' March 2009 movie Monsters vs. Aliens. Each of the assortment's 6-inch figures comes equipped with a special internal feature or a special bonus gadget.
Uncle Milton
On the heels of its Indiana Jones science and nature line, Westlake Village, Calif.-based Uncle Milton is expanding its relationship with Lucasfilm to include Star Wars science products.
The toymaker's rights include those for the six Star Wars feature films as well as this summer's animated Star Wars: The Clone Wars movie and its related animated television series. Products will be designed for kids ages 6 and up, and will reach retail in fall 2009.
Wild Planet
Wild Planet, San Francisco, has a new assortment of security, communication, defense and surveillance gadgets on tap for its popular Spy Gear line in 2009.
Spyder Trap is an alarm with touch-sensitive trip lines that extend in four directions to protect an area up to 23 square feet. Tension from the trip lines keeps the alarm suspended in the air, spider web-style, creating a spectacle to scare off timid spies. Should enemies come in contact with any one of the trip lines, their intrusion will be announced by a flashing red light and warning siren.
The Multi-Tool X-6 contains six spy gadgets integrated into one pocket-sized tool.
Spy Flashlight is an LED flashlight with adjustable neck, flexible strap and red "laser" pointer that can be attached to bicycles, backpacks, belts and other objects using a flexible rubber strap on its handle.
The Digital Alarm Safe is an electronic safe with audio prompts, digital keypad and alarm.
Wild Republic
Twinsburg, Ohio-based Wild Republic brings to Dallas two new lines.
100% Organic is a new sub-brand of Wild Republic's Nature's Accent product category. It includes soy and bamboo racks for retailers, fleece plush, animal blankets, pencil holders, pillows, purses, and nature-themed Wild Republic greeting cards.
Mongo Grinders are bendable, magnetic skateboarding animal action figures.
Wild Republic also plans additional Australian Zoo Bindi toys.
Zizzle
Zizzle, Bannockburn, Ill., takes its shot at Nintendo Wii and Guitar Hero-style active electronic entertainment with a lineup of ESPN licensed fitness trainers and new gadgets for rock music mimicry.
For rock fans, the toymaker has created Guitar and Drum Blast. Drum Blast is an electronic game with drum set styling that lets players pound along to 10 songs or freeform along to an original jam by following a pattern of lights. It has three built-in games for solo or head-to-head play. Guitar Blast has similar elements—three games, 10 songs—and is played by following along to a series of finger positioning lights and strumming patterns.
Zizzle's ESPN Gameday Sports and Training line gives kids a way to train for specific sports, in this case football. The line includes four SKUs: Arm Cruncher, designed to promote the conditioning, flexibility and agility of the upper arms and shoulders; Grip Twist, which promotes the conditioning, flexibility and agility in a user's wrists, forearms and hands; Chest Press, created to work the upper body and shoulders; and Tire Trainer and Footwork Mat, which builds foot speed and stamina. All of the units feature six play modes; measure and monitor the user's progress; and have a built in "trainer" to guide people through each activity.
Once kids have their basic conditioning set, they can go outside to play with Zizzle's three new ESPN Gameday footballs. The 3-in-1 Combo Football is a 12-inch ball with an aerodynamic tail for long distance passes and comfortable catching. The ESPN Gameday Football is a traditional 9-inch youth football with a spiral design that helps kids distinguish it visually while in flight; it also improves grip for easier spirals. ESPN Flag Football is a set that includes all the components needed to play a backyard game of flag football, including yardage and goal markers.
In other licensing news, Zizzle is planning a range of toys based on the SkunkFu! animated television series that includes action figures, playsets, role-play toys, electronics and feature plush.
For girls, Zizzle offers P.J. Sparkles dolls. The assortment is led by a large doll with a light-up heart, tiara, bracelet and earrings. Several smaller Sparkle Friend dolls are offered in princess and ballet themes, each with mini pets. A Fashion Princess theme offers seven Twinkle Town playsets.
Pet 'N' Play Palz are three next generation virtual pets that can be connected to watch and play additional content and interactive games. Actions include sports, acrobatics, physical contact and music.
Related Content By Author
Subscribe to
Gifts & Dec Direct
Receive the news you need to know about the trends in the industry delivered right to your inbox.


AmericasMart ICON Honorees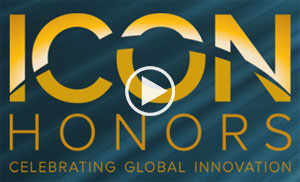 Excellence and superior achievement in the home and gift industry were recognized in July at AmericasMart's eighth annual ICON Honors. Enjoy these video stories celebrating the 2017 award recipients: Spicher and Company, Bloomingville, Wolf Gourmet, Her Majesty's English Tea Room, Kurt S. Adler, Inc., and Chris Rosse, Rosse and Associates. See the videos!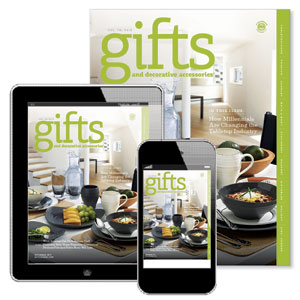 See the September 2017 issue of Gifts & Dec. We look at how Millennials are changing the tabletop industry, plus what retailers can do to reduce theft. Get details!