Direct from Market: New York
The New York International Gift Fair held at the Jacob K. Javits Center and Pier 94, and the related gift, home decor and home textiles markets at 7W New York, 41 Madison and 230 Fifth Avenue, got off to a positive start and the mood stayed upbeat throughout the show. Most vendors were happy with traffic and sales saying things were holding steady. 

"The last two markets have been really soft, but this market has been really good," said Marjorie Handelman from Ankasa.  

"We had some of the biggest orders this show. This is a time for opportunities. Beautiful things always sell. They might sell slower, but if you tempt somebody with something beautiful, they're going to buy it," said Karleen Shelley of Monica Willard. Those vendors who offered something new and unique were especially pleased with this market.
Circumstances beyond the control of show managers put a small damper on spirits and delayed some exhibitors and buyers in making some of their appointed rounds. Unbeknownst to GLM, on Sunday morning, opening day of the main body of the New York International Gift Fair, a mini-marathon closed down parts of NYC's Eighth Avenue and 42nd Street, causing traffic jams and major confusion in the routing the shuttle buses, causing

Retailer Excellence Awards gala
delays of up to two hours. Twittering passengers and NYIGF shared routing and news updates. On Monday evening, shuttle buses between Javits Center and the 7W showroom building had difficulties when a fire near Madison Square Garden shut down 34th Street.
Events Galore
The upbeat mood of the market was bolstered by a number of special events and showroom openings. A cocktail reception for the International Gallery at 7W New York kicked off the market on Friday evening. On Sunday evening, representatives from all across the industry gathered together to celebrate the finalists, winners and honorees at Gifts & Decorative Accessories' annual Retailer Excellence Awards gala. Monday evening buyers were treated to a Hawaiian-themed late night shopping evening and party at 7W, while World Market Center Las Vegas hosted a September market products preview at the Museum of Arts & Design. And the Italian Trade Commission also hosted an event at a rooftop pool.
Stirring Things Up


Paul Tinman demos his tattoo art craft at Ink Dish
Ink Dish caused quite a stir at the show. The new company of dinnerware featured tattoo-artist Paul Timman's designs. Timman was at the show exhibiting his skill, as well as promoting his new collection. You would expect the line to be edgy, but it actually has a soft touch. Cherry Ink features cherry blossoms in pink; Tribal Lines is a little "tougher" in that it

Cherry Ink from Ink Dish
features a more graphic floral motif in black, gray and white; and Irezumi, an Asian inspired pattern, is done in blue and white and features a dragon. Many show attendees asked if Timman would give them a tattoo, but sadly for them, he was only demonstrating his craft.
New distributor neo-utility  launched with a bang this market, taking home Best Overall Collection in the Accent on Design Awards at its first-ever tradeshow. Doubling as a sales agent and brand strategist, neo-utility and founder Kip Kotzen represent brands from around the world, including Anything, Artek, Boskke, Columbia Forest Products PLYprints, Idea International, Seletti, Six Scents and Very Good & Proper.

Live What You Love
Bob and Melinda Blanchard launched their new enterprise Live What You Love and brought it to market in just six short months, but to look at their product line and booth display, you would never know it. The collection of greeting and enclosure cards, gift/storage boxes, magnets, notepads and books is extensive, and the presentation sophisticated. The line and its message resonated with buyers.
Setting the Table
Arte Italica's new Pietra collection of pewter and stone serving pieces are a great addition to entertaining sections. People can also use the pieces to write their dinner or buffet menu or to identify what is being served.

Juliska trinket trays
Juliska is focusing on growing its gift segment. The company has introduced Cornerstones a collection of trinket trays with a sentimental message. There are four trays: Love, Courage, Friendship and Integrity. For example the heart plate reads: "Love conquers all." Each comes gift boxed with a coordinating gift card.

Jan Constantine
Jan Constantine  is new to The Richard Cohen Collection showroom at 7 West. The collection of hand-embroidered pillows, scarves, wall hangings and throws is based in England. Constantine, the designer, has introduced a new American collection for the U.S. market. The textile collection incorporates variations of the stars and stripes in the designs.
The Fashion Catwalk
Halcyon Days best known for its collection of enamel boxes is now offering a selection of jewelry. The line includes a range of bangle bracelets in various colors, as well as illustrated pieces. The company plans to expand the line in the future.

Beegee Bags
Beegee Bags  is a new collection of handbags made from a variety of fabrics including silks, upholstery weight canvas, cotton and sateen. The clutches are feminine and perfect for an evening out or an afternoon out with the girls for lunch. Currently there are three handbag styles in a variety of fabrics.
Stewart/Stand in The Mary Harper Group's showroom features a collection of wallets and passport holders made from stainless steel. The sleek collection is a perfect addition to a men's gifts section. Debuting this market in the Stewart/Stand booth at Javits was a small collection of stainless steel women's handbags perfect for day-to-evening. The Wurkin' Stiffs line is expanding from collar stays to cufflinks that feature contemporary artwork by the artist who designed the Twitter logo.
Kita New York has come a long way. After getting its start with a selection of handcrafted leather belts made in Indonesia, the company has expanded its selection to include cuff bracelets in various sizes, as well as tabletop with a selection of napkin holders. There is a wide range of designs from Asian-inspired to rock star cool.
Jax + Jack is a new collection of bags and pillows from Suburban Silk. The separate brand features line drawings of the Arc de Triomphe, the Taj Mahal and the leaning tower of Pisa, as well as other patterns on cotton canvas. The collection was well received according to Edward Vanegas.

Jaguara
Jaguara by Ursula Schneider is a leather designer from Munich and offers a selection of handbags and bracelets that are works of art. The collection features handbags that take the form of flowers, shells and other artistic creations.
Clava introduced a stylish collection of coated canvas totes, travel pieces and handbags that have well appointed and organized interiors, all retailing for under $200. The Carina Collection pieces all include a matching removable zip pouch that can be used as a small clutch or evening bag.
The Rebecca Ray collection of handbags, totes and other accessories evoking the sporting lifestyle attracted a lot of attention from buyers. The company introduced a new Country Living collection. And new for the winter is a bag made from the iconic Hudson's Bay trade blankets. All pieces feature durable hardware and hand-worked leather.
Home Coming
After a brief absence, Marc Blackwell has come back to the show with a wide selection of tabletop items, including dinnerware and stemware, as well as a home collection. The line includes candles, linen sprays, fragrance logs and a selection of textiles, including bath towels and decorative pillows. The collection is a nice extension of his tabletop line and features the same elegance found in the dinnerware and other table accessories.
BlissLiving Home is taking customers on holiday with its new bedding collections. Icelandic Dream features ice and pale blues, as well as a passport pillow with authentic stamps. The next collection, called Amelie Green, takes you north to Canada. This line features deep and light greens and takes its inspiration from nature. Also included in this line is a Canada passport pillow. The third collection is Arabian Bazaar and incorporates deep jewel tones in purples and golds. The highlight of this collection is the Naughty/Nice pillow, and of course there is a passport pillow included in this line as well.

Ankasa
Ankasa's new herringbone collection was a hit at the show. The pillows in this line featured a herringbone fabric on one side and a silk backing to give it a luxe look. The pillows were also given a soft touch with floral appliqués. The company also went a little edgier with a collection called Rock Chic. The line of bedding, pillows and accessories has a black base and is embellished with silver foiling and sequin embroidery. It's definitely flashy and not for the timid customer.
Stay tuned for Andrew Morgan's aromatherapy collection. The textiles will feature a soothing lavender scent.
Permanent floral manufacturer Immortalis is also focusing on smaller gifts, and focusing on items that will retail for at and around $50. The floral designs include small bud vases, as well as flowers laid out on small glass trays.
Sorella Home  is a new company that offers a selection of tabletop and decorative accessories from Italy. From modern designs to more traditional looks, the line includes stemware, mouth-blown glass accessories, Tuscan wall plaques, hand-painted ceramic tabletop items, as well as Italian pottery and garden decor.
In the Showrooms
Isadora & Mizrahi at 7W added a few new lines to the showroom, including Nora Fleming. This collection of serveware allows you to dress up platters and trays according to the season or holiday with a mini figurine. Each piece features a hole where you can swap out a snowman for a beach ball figure. Also new in the showroom is Pierre Rousseau candles and Franniart, a line of leather bracelets. The bracelets are fastened closed by attaching a charm. The company also offers necklaces, rings, gloves and more.
Tenants at 41 Madison opened their showroom doors during market to reconnect with market attendees and demonstrate that they have more than just tabletop and dinnerware to offer gift buyers. Vignettes in the lobby of the building highlighted the offerings of several companies that buyers would find on the upper floors. Among those showing their wares were Mottahedah, William Yeoward Crystal, Royal Copenhagen, Julia Watts,  L'Objet, Seguso and Meissen. Laurie Burns, director of 41, reported a steady number of buyers to the building, many of whom were rediscovering its offerings after an absence of some time.
Speaking of being absent for some time … Gifts & Decorative Accessories caught up with Sharon Lee Parker, long-time Boehm Porcelain collector and former retailer turned company owner, at her first New York gift market to hear about her plans for the porcelain manufacturer. True to her original motivation in buying the company to prevent it from turning to overseas production, Parker plans to keep Boehm's products made in America — Trenton, NJ, to be precise — "for the foreseeable future."
But that doesn't mean she has no changes planned. In addition to spreading the word about Boehm's renaissance, expanding its retailer base, trimming costs and revamping its web presence, Parker is expanding the line. New offerings include pet urns, more bowls and small animals, and products for brides and babies, as well as developing the company's corporate gifting and charitable giving tie-ins.
The latter is a cause particularly close to Parker's heart, considering that her initial involvement with the company was developing the Hope rose for cancer survivors like herself. In fact, it was on a trip to purchase a Hope rose for a doctor with cancer and his wife that Parker discovered her new role when she found the long-time gallery manager in tears. "I came in to buy a rose but I am going to buy the company," she said. The author of a book on surviving cancer, Parker continues to coach cancer patients and serve on the board of trustees for the Hackensack, NJ, Medical Center.
Parker got together a group of investors to purchase the company, and is planning to add a few more so she can afford to advertise. She is in talks with several major retailers, and is planning to add jewelry to the mix for 2010.
The Essence of ExTracts
Every exhibitor we spoke to in ExTracts, the personal care division of the NYIGF, reported brisk traffic and optimistic buyers, a welcome change, said several, from the January market. We particularly noted crowds at the James Boyce Collection event at Volupsa, where chef Boyce was present in person to serve hors d'oeuvres and promote his new gourmet-inspired collection of candles and personal care. Also crowded was the booth of brand new company Wembe, decked out like a rainforest to promote its line of natural soaps made in Paraguay.
While no one dramatic new trend dominated this mature market, we spotted several trend-forward variations on a theme. Notable new intros include the well-priced Plaid collection from Bluewick, which carries its fashion-inspired theme through onto frosted glass patterns on the containers and the packaging, as well as Bluewick's new three-fragrance offering for fashion designer Trina Turk.
Organic products vendor Danielle & Co. offered an eye-catching men's gift set collection packaged in paint cans, including The Manly Man Can, for $45. Also good for men's gifting, but great for women too, is Spotless from Marilyn Jaeger, a debuting potion for ingrown hairs which is based on green tea, not alcohol, so it can be used right after shaving or waxing, whether on a man's face or a woman's bikini line.
Seda France offers new Disney licensed home fragrances in the understated and far more elegant vein which is Disney's new licensing emphasis in the home market.
Combining charity and the personal touch, Ribbons of Love, from Archipelago Botanicals, raises breast cancer awareness. A portion of each sale is donated to research and treatment. Created by the women of the company, the glass candle container and reed diffuser bear each of their signatures.
In personal care, look out for Edition Noire, an eye-catching all-black-packaged line which is an entirely new look from Compagnie de Provence. Based on two different Asian gardens, on in Borneo and the other in the Himalayas, the line is displayed with a signature blue-black butterfly who migrates between the two.

 Izabella
Izabella offers an exfoliating Loofah Slipper Set which comes with effervescence and shimmering bath salts for $35-$40.
But despite the emphasis on affordable price points, not everyone was shying away from higher-end statement gifts: Nomi premiered a large vase-sized aroma diffuser set handmade of Egyptian glass and 24-kt. gold and packaged in a luxury box, and reported strong sales, showing that even in a down economy, people are still willing to pay for high-end gifts if they offer good value.
Probably the edgiest offering is the new perfume line Juliette Has a Gun by Romano Ricci, a radical reinterpretation of Shakespeare's fragile heroine for the present, offering three different rose-based scents: Lady Vengeance, Miss Charming and Citizen Queen. $85-$135, distributed by Europarfum.
Going to the Dogs — and Cats
Giftable pet products have not gone away. A range of pet products that are a step ahead of the big box offerings appeal to the specialty retailers. Yep Yup, which we encountered first at the California Gift Show, garnered a lot of buyer attention with its coordinated home décor/pet accessories line.



modkat
On the fun side are the HumungaStache, a mustache-shaped dog toy, and the Fling-ama-string automatic cat toy that can be hung from a door knob. Both are from Moody Pet Inc.
From modkat  is a high design cat litter box "Where modern cats do their business" as the company's tagline states. This modern box is more like a box that cats jump into, that has many conveniences and considerations for the owner who has to keep it scooped and clean.
Decorator, home décor styled pet accessories that blend with a home's décor and an owner's lifestyle come from Unleashed Life. There are water and food bowls, beds and more in the line that have a real high-end home décor feel.

Boleo  previewed a pooch-poo pouch that attaches to the leash. The pouch has two compartments: one to dispense the pick-up baggies, and one to stash the waste-filled baggie until it can be thrown away.

Vanca Craft
For the proud pet owner, Vanca Craft  from Japan offered sweet handcrafted leather keychains and desk accessories styled like different types of dogs and cats. And Suzy Everson introduced a notecard line featuring her dog and cat portrait art.
Just for the Fun of It
Novelties were eye-catching and brought our smiles. The Coo Clocks from Heads-up are a novel take on the traditional Cuckoo Clock — only with one Coo. Rather than the bird coming out to mark the hour, these clocks have different animals making different animal sounds. There's the MeowCoo, the EleCoo, WhinnyCoo and more.
The PhartEphant (which we blogged about ) made its gift market debut and was well received. The gas-passing-noise-making plush toy is a hit with the 3-to-10-year-old crowd as well as a certain portion of the adult consumer audience. A storybook, with tales of Norman and the friends he makes at the zoo, will be coming out in November; other stories, sound-making plush friends and a coloring book are in the works.

Tops Malibu Surprize Cornucopias
Do you have customers with ties to Ireland who always are looking for the perfect gift for family? How about a bag of dirt? More specifically Official Irish Dirt? The Auld Sod Export Co. introduced Official Irish Dirt gift items: a bag of real Irish dirt and two gift sets that include a growing container, Irish dirt and Irish seeds. One of the gift sets includes a real Belleek bowl in which to plant and grow real Irish shamrocks.
Tops Malibu encourages folks to unwrap a surprise with its new Surprize Cornucopias. The Cornucopia holds a crepe-paper ball that, when unwound reveals five surprises; seven other tiny gifts are tucked into the cone-shaped cornucopia.
Gourmet Giftables
Why not offer tea with a little fun? Customers can serve up a little literature at their next book club meeting with Novel Teas from The Bag Ladies Tea, tea bags with tags featuring quotes from C.S. Lewis, Alice Hoffmann and other authors.
Also for tea drinkers, the Teastick  is a design forward tea infuser in two styles: a stainless steel model for regular tea and a new phlatate-free, plastic and mesh-screens style for herbal teas. There is a gift set that includes the infuser with a package of quality tea.
For a way to cut and serve cake with ease is the Magisso Cake Server from Finland. The server has a clean, contemporary design that makes it look like a piece of art as well as a functional utensil.
Trend on the March?
One trend we noticed in Accent on Design is edgy products adopting military imagery for anything but militant ends. And we're not just talking camo patterned fabric: The existing GreenAid from Lovegrove and Repucci  and Terrorist Teapot from Suck UK have been joined by new offerings. CleanUp soap from Social Entrepreneurship Network is shaped like landmines and raises funds for a charity that diffuses the legacy hazards in Cambodia. BombVase and grenade shaped-piggy banks from Molla Space Inc.  raise money for peace. Even Artechnica showcased its new cork cases by wrapping one around a toy machine gun.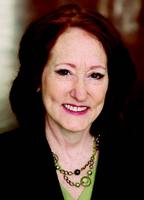 Caroline Kennedy
|
Editor in Chief, Gifts and Decorative Accessories
ckennedy@giftsanddec.com
Related Content By Author
Subscribe to
Gifts & Dec Direct
Receive the news you need to know about the trends in the industry delivered right to your inbox.


AmericasMart ICON Honorees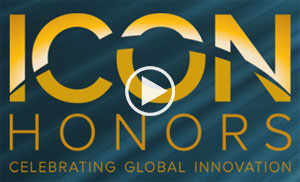 Excellence and superior achievement in the home and gift industry were recognized in July at AmericasMart's eighth annual ICON Honors. Enjoy these video stories celebrating the 2017 award recipients: Spicher and Company, Bloomingville, Wolf Gourmet, Her Majesty's English Tea Room, Kurt S. Adler, Inc., and Chris Rosse, Rosse and Associates. See the videos!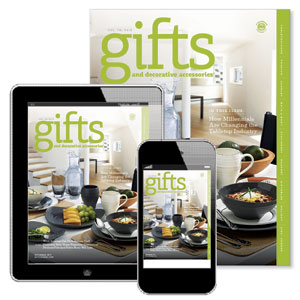 See the September 2017 issue of Gifts & Dec. We look at how Millennials are changing the tabletop industry, plus what retailers can do to reduce theft. Get details!