Direct from Market: Los Angeles
The mood was upbeat and the buying was steady in Los Angeles for the California Gift Show at the LA Mart and LA Convention Center, and the Gift & Home Market at the California Market Center, despite the snowstorm in Seattle which held up several exhibiting companies and presumably buyers as well. MMPI's Mark Furlet indicated that attendance figures were up by double digits, although official figures were not in at the time. Showrooms in the mart were reporting good traffic and a positive buying attitude. Late night shopping on Friday evening had LA Mart showrooms bustling with buyers taking advantage of the extra hours after the temps closed. There was a festive atmosphere on the floors.
LA Mart
A number of showrooms expanded their spaces to add room for new lines and a fresh new look. Among the notable: Stephen Young has a greatly expanded bookroom offering more publishers in an easy to shop arrangement; Roost, in partnership with its rep group Fine Lines, opened its largest U.S. permanent showroom space at the mart to cater to the West Coast market; and Grace/Remembrance moved to a bright, more spacious, contemporary space that better shows off its lines. Several new companies such as India Handicrafts joined the ranks by opening showrooms in the LA Mart.
Over at the California Market Center (CMC), Mickey Lang's California Marketing Associates (CMA), long a tenant of the building's 13th floor, has new gift and home neighbors on the 12th and 9th floors. Among those taking up residence in new quarters on the 12th floor are Rosalie & Friends, Katherine's Collection, Melrose Intl. and World Buyers, as well as a number of smaller exhibitors. While some were still putting some finishing touches on their spaces, others looked well settled in, although they had only been moved in a short while. Everyone was pleased with the buyer traffic coming through the showrooms. Indeed, the Melrose showroom was very busy while
Gifts and Decorative Accessories
was there.
The 9th floor was a little quieter as its current tenants, Filbert & Fig and The Rosenberg Group, offer higher end furniture and decorative accessories, but should not be overlooked. The Rosenberg Group represents such lines as Napa Home & Garden and Ibolli. And the CMC offers more to explore. With the growth of fashion and children's products in gift retailing, the fashion accessories and children's showrooms in the A-wing of the building offer more cross-merchandising opportunity.
Happy Holiday!
A&B Home has added to the diversity of its offerings by introducing its first holiday decor collection consisting of 2,500 SKUs in a range of styles. Particularly striking are the winter white and frosty offerings with their elegant yet whimsical critters.
A & B Home
Owls - Snowy and otherwise - continue to be big in holiday decor (and elsewhere) this season. They were noted at Raz Imports, A&B Home, Tag and Melrose.
Katherine's Collection has incorporated more florals into its mix that go with each of its collections and themes. It is also incorporating items that have more year-round use rather than just being strictly "holiday."
One hundred 80 degrees was still busily setting up in the CMA showroom; its shipment had been held up in customs in Alaska. But not having everything set up to perfection did not stop buyers from writing orders. And Raz was keeping things lively with its tree that comes alive with motion- and touch-activated ornaments that move and make sounds.
Down the Garden Path
In Southern California, it's always time to think about the garden and outdoor decor. Of interest from Pacific Decor are its oversized lanterns for pillar candles or gel fire pots. Also notable are its flame fountains and other decorative fountains.
DZI
Also tapping into nature and gardens are
Two Lumps of Sugar
with its new collection of garden accessories from aprons to tools in bright colors and patterns and
DZI
with its unusual birdhouses handmade of felt. These are not just decorative but each style is crafted for a particular type of bird in mind and can be used for real.
LA Lights
Among the more unusual candle finds was the Kissed By a Hippie line from the aptly named Unique Candles. The line features six candles, each named for a year of the 1960s and each with a distinct scent.
DL and Co.
D.L. & Co., a high-end candle line previously known for its luxuriously gothic aesthetic, is branching out into new directions with earth tones, larger statement pieces, unusual glass containers and coordinating glass home decor. Kaum Home appeals to the verbal with candle scents that each contain a play on words.
LA's candles are definitely into de-stressing: Chilanthropy offered handmade soy candles with organic denim wicks; Paradise Candles of Hawaii are contained in acacia wood and coconut shells and feature a variety of exotic tropical scents. Meanwhile SOS candles can be used cold as a lotion or warm as a massage oil (as well as simply scenting the air as a candle of course.)
The Land of Beauty
Flemming Chalef is the first on the West Coast to have the J.R. Watkins line of personal care and household cleaners. Established in 1868, this line appeals to the modern consumer with its natural ingredients and proven performance. "I thought the line would do well," noted Flemming Chalef's Doug Moseman, "but it's been amazing!"
Compared to several years ago, the aisles of the convention center no longer overflow with aspiring bath and body lines, but that doesn't mean there was nothing to see. Clever Girl Innovations is a new company offering GlamEars silicone ear protectors that protect ears from harsh hair dyes. Dossage Fragrances by Gallery 209 is another debuting company, offering four high-end scents from a hospitality industry veteran. And one hot, celebrity driven trend at the show was nails that are not just polished, but decorated. At the LA Mart, Showroom 504 on 3 offers Nail Fraud nail polish strips. New additions for 2012 include Nailstaches, Nail Camp and Color Wars, as well as a Make Your Own version. Meanwhile at the convention center, Cailyn Printed Premium Stickers for Nails gives the same concept an upscale twist.
Eastern Influence
Om Buddies
Also notable in bath and body and candles was the Good Karma Shop, a line available only in LA and the Bahamas, where founder
Anita Rosenberg
's client and friend Rita Marley features the line at the Marley Resort & Spa. Anita is a Feng Shui and Chinese Astrology expert and her line expresses those interests, but what really sets it apart in-store is the display units - each is a one of a kind Eastern-inspired art piece and each store must invest in a display.
And if that's not enough East for you, try a plushie Ganesh from
Om Buddies
. His bright colors and soft texture will appeal to kids while his status as "remover of obstacles" who brings good luck, health and fortune will make him an irresistible mascot to adults as well.
Fashion Forward
What was omnipresent in LA was fashion, trending here as it is throughout the industry. Standout offerings included JCLA Inc. offers dog and cat themed bags that give 10 percent of the proceeds to animal rescue and come with removable, washable liners for those who like to keep a pet on the inside of the bag as well as the outside. (They can also be used as diaper bags or regular totes.) Another product aimed at an underserved niche market is The Original Couture Hospital Gowns and Men's Wear. Though the company, along with several others, was kept from the show by a snowstorm in Seattle, a sample and brochure testified to a line that keeps patients covered in style, making them a must-have for hospital gift shops.
Gumball Poodle
Many of the products tended toward the playful: the unforgettably named Gumball Poodle offers knee socks with words knitted right into them, from Bacon to Zombie. Hook-Links bracelets are accessories for couples (or BFFs); the magnetic friendship bracelets attach to each other as you walk down the street, and a portion of proceeds support organizations that help kids.
Recommended by a buyer is Rewind, jewelry pieces handcrafted from vintage timepieces. This is more than Steampunk. Artisan Carlos Slightly is passionate about the beauty of the inner workings of high quality vintage watches. The collection includes pendants, cuff links, rings and more.
Looking for something unusual, special and inspirational? Consider the Giving Keys. This line of necklaces crafted from old keys encourages people to pay it forward. Each key is engraved with a message word, such as Inspire, Give, Love, Truth... The necklace with the key should be given away to someone else in need of its message. Homeless people are employed in the production of this charitable line.
Notable in the Lynn Mitchell showroom, Pinetti's Quattrogiga combines high tech with low tech. The beautiful Italian leather-bound notebook has a silicone fastener to keep the notebook closed, but the fastener is actually a USB flash drive. It is removable for use with the computer. Mitchell also has a standout contemporary jewelry line by My Sister's Art crafted from lightweight white metal and rubber.
Among the many fashion offerings in the Beckman's Handmade aisles, one standout was Rafia Jewelry, an unusual take on initials in a font the artist invented herself. Also notable were Eco Cashmere Scarves from AnnMade Candles. They're made from recycled sweaters, complete with the occasional surprise pocket. And at the convention center in the small but charming vintage section, Bombshell Betty offers unisex leather cuffs made from vintage belts, 1940s horse tack, locks, anchors, dog tags and other atmospheric vintage metal. And on the feminine side, Oilcloth Alley is inspired by 1940s and '50s tablecloths to produce aprons, bags and more.
Nell and Mary
Westward Home
Among the home decor products not seen at other gift shows were Bio-Blaze. Not the same as an electric fireplace (or the outdoor firepots whose gel fuels went through recalls in 2011), Bio-Blaze runs on bio-ethanol, so it doesn't produce any smoke or smell, and is eco-friendly. They can be used both inside and out.
Also noteworthy were Nell & Mary's U.S. Handmade Home Goods. Handmade in Portland, OR, the pillows and tea towels feature modern designs screen printed on cotton at surprisingly affordable prices.
How about taking a wine glass for a spin? Sempli stemless glassware are crafted with a shape for the perfect swirl to release the aroma and "nose" of the wine. They are mouth-blown and lead free.
Kiddie Corner
Eye-catching children's products included Raskullz helmets, kids' bike helmets decorated with everything from rubber Mohawks to kitty ears, which are so popular that Bozeman & Associates has a hard time keeping them in stock. New
Whirlygigs
in plush - not only to the LA show, but to anywhere - is the
Whirlygigs
line, quirky, hand-sewn stuffed birds in the Stephen Young showroom that will delight kids and funky adults alike. The line is the brainchild of a children's wear designer and a children's movie and book creator, and plans to expand beyond toys in the future.
Related Content By Author
Subscribe to
Gifts & Dec Direct
Receive the news you need to know about the trends in the industry delivered right to your inbox.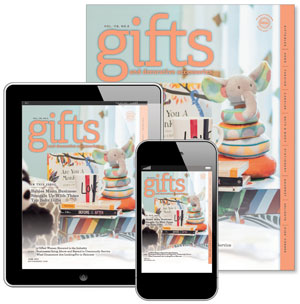 See the June 2017 issue of Gifts & Dec. In this issue... Babies Mean Business: Snuggle Up With These Top Baby Gifts. Plus, 9 Gifted Women Honored in the Industry, Business Going Above & Beyond in Community Service, and What Consumers Are Looking For in Skincare. Get details!