Mastering Retail
The MASTER plan for successful retail defines six attributes and shows how each manifests itself.
Whether we read it in trade publications or the local newspaper or saw it on World News Tonight, we've all become familiar with the excuses retailers offer for lackluster performances: "There was too much snow/rain/sunshine." "Unemployment was up." "Mall traffic was down." "Consumers have lost confidence."
Yet some retailers continue to grow year after year. They open new locations and produce enviable sales-per-square-foot numbers. How do these retailers do this while operating in the same business environment as the excuse mongers?
These winning retailers share six common (or should we say uncommon) attributes. Such traits not only distinguish their way of doing business, but also clearly establish their market leadership position in the consumer's mind. In short, such retailers define their category. (For example, when you think lingerie, you immediately think of Victoria's Secret.) The MASTER plan (Magnitude, Authority, Stimulation, Temptation, Ease, and Revelation) for successful retail performance identifies these attributes and shows how each manifests itself in the retail environment.
Magnitude
Consumers value meaningful choices. They'll tell you that they see too much redundancy already in the marketplace. These days price points, quality, and product features offer little variation in a wide sea of merchandise. After all, a hundred choices of coffeemakers all priced at $39.99 are more likely to cause consumers paralysis than excitement. In fact, consumers are so starved for meaningful choices that excitement can be generated by something like KitchenAid introducing pink-colored food mixers.
Not long ago, few people could pronounce, let alone identify frappuccino or focaccia. In a 75-cent coffee world, who'd have thought that people would plunk down $4 for a hot beverage? Or that a loaf of specialty bread could cost as much as a meal? Though a trip to the grocery store is universally described as drudgery by consumers, the plenitude of choices inevitably cause shoppers' eyes to light up. Why? Because meaningful and perceivable choices excite consumers, who can sense the magnitude of what is being offered.
Authority
Above all, consumers want the sense that retailers have a plan. They need assurance that you know your business — that your concept is bold, and that you believe in it. This sense of assurance will allow them to shop without having to read the fine print. Across categories, the most successful retailers instill this sense of assurance. For instance, customers assume that Costco offers the lowest price, because they have a mastery of value. At Whole Foods customers know that the product is fresh, environmentally friendly, and good for you. And at Tiffany's, the guarantee is good taste. Each of these retailers has an established sense of authority. After you've demonstrated your authority, you can begin to distinguish your store from the crowd.
And mastery can be displayed in other, less distinctly product-oriented ways as well. One can be a master of empathy or romance. Mastery can exist in the ethical arena by making it clear that you share your customers' values by the way you do business. This all adds up to giving your customer a clear sense of how your business works and why it is different. And as time goes by, customers will develop a sense of trust and confidence in you as a retail partner.
Stimulation
Retail must also be a place of stimulation and excitement for consumers. For many customers, who may never venture far from home and work, retail is a window on the world, presenting everything from hot new trends to examples of celebrity style.
Storeowners must use that window wisely. Handcrafted product can dress up dreary decor, while vivid colors and fabrics add excitement to the humdrum of everyday life. If done right, retail is the ultimate showcase for life's little pleasures, diversions, and rewards. World-class retailers stimulate customers, helping them discover what they need and inspiring them to search for what they want, be it a fresh shade of lipstick, a scented candle for the bathtub, or a greeting card with the perfect message.
Temptation
The difference between stimulation and temptation is a bit like the differences between savory and sweet. Taken alone, each can be a pleasant flavor. But they are much better when enjoyed together. Stimulation without temptation is fleeting; temptation without stimulation often feels dangerous and demanding. Retailers must offer a good meal and a great dessert — an experience worth lingering over, but not so demanding that it makes customers think twice about their choices.
How can you create your own Temptation Island, full of alluring ideas? It might involve strategies as simple as sampling or as complicated as developing themes and storytelling experiences that engage the customer head-on. Either way, offer a fully formed image that entices the consumer to take the first step.
Ease
Another important feature of retailing involves imparting a sense of ease, making the customers feel at home in your store. In some cases, ease involves offering one solution to the consumer, while in other instances it's best to give consumers the A-Z of choices.
Creating ease can be as simple as presenting an attitude that suggests that customers are welcome to linger and immerse themselves in the shopping experience, leaving their workaday world behind. Convenience creates a sense of ease. But this kind of convenience is not necessarily a function of location or physical access. Easy convenience comes through frankness of thought and attitude. Streamline the message you want to convey, so that the customer can't fail to understand your mission and statement.
Revelation
As a marketing effect, revelation is like peeling back the layers of an onion. The best retailers are more interesting the more you get to know them. They offer exciting, intriguing discoveries with every visit, and aren't afraid to provide adventure every step of the way.
Revelation can be contained within a product, or it can come from a collection of ideas and products that appeal to all the senses. It can also come from unexpected matches, like making a conservative jacket of unique material. Such efforts can be subtle or extravagant. But either way, revelation rarely exists in a no-touch environment. Rather, it is created when the store's staff makes the customer say, "What will they think of next?"
With all of this in mind, as you start making your business plan for 2004 and beyond, be sure to ask yourself if you are MASTERing your retail opportunities.
Related Content By Author
The REAs Are Almost Here: Learn More About the Gift For Life Award Winner

More Videos
Subscribe to
Gifts & Dec Direct
Receive the news you need to know about the trends in the industry delivered right to your inbox.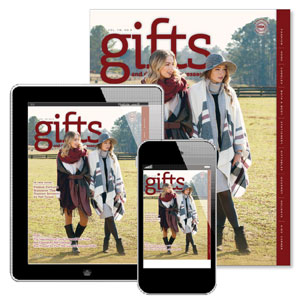 See the July 2017 issue of Gifts & Dec. In this issue... Fashion forward, Repurpose That, Sumer Inventory for Fall Trends. Plus: The importance of local fare and fair trade, Are customer still coloring and Tea (Towels) for two: The latest in gourmet gifts. Get details!