Make-and-Takes' Make Sales
Make sure you have enough product on hand in addition to enough space
This year, resolve to try a new way of bringing customers into your store by hosting "make-and-take" events. Depending on your type of store and what you sell, these types of events can range from assembling simple paper crafting projects, to making high-end bracelets with beads and charms.
     "Make-it-take-its are meant to be quick, to educate many customers, and to sell products," asserts Traci Armbrust, senior designer at Accu-Cut, a producer of die-cutting products for the craft market. "Obviously, people buy what they see."
     To help make these events more customized and intimate, Armbrust advises adding a theme or having a wine-and-cheese night, depending on what you're trying to showcase and sell. For example, she says, if it's a designer craft project using a crackle medium, the theme might be more upscale and reserved; if it involves a polka-dot pattern with stickers, you might go with a fun and quirky theme around which all of the event's marketing can be based.
Consider Your Space
Before you plan any make-and-take event, it's important to consider the amount and type of space that you can devote to it in-store. "Craft retailers build their space with workshops in mind; gift retailers usually don't," remarks renowned designer Joanne Fink, president of Lakeside Design and author of the best-selling Zenspirations craft book series.
     To begin, Fink recommends having at least one table that can seat a minimum of three customers, and leaving room behind the seats for other customers to look while waiting their turn. And, for maximum exposure, position the table or a bar near the entrance of the store if possible, says crafting expert Jennifer Priest, social-media management consultant and strategist at Rainmaker Media Works, a division of Hydrangea Hippo Inc. Priest further suggests decorating the chairs by tying tulle or ribbons to them.
Offer customers a discount on products involved in the project.
     "If you have space, consider hosting several different make-and-takes on the same day," Fink says, noting that projects should be kept short enough so there can be a lot of turnover at the table. Alton DuLaney, a well-known paper-arts instructor on the website Craftsy.com, agrees. "When hosting make-and-takes, consider doing sets or suites of projects," he says. "That way, you have a little something for everyone, or you may find the customer that wants to do it all."
     Among DuLaney's favorite make and-takes is the "Diva Desk," which combines several projects into an overall statement piece. "You can demonstrate how to make various organizational boxes, covered in deco tape or paper, to hold things such as pens, paper clips, scissors, etc. You can also cover a bulletin board with paper or tape to customize a room or office," he relates. "It's a great way to engage the customer with a variety of products and techniques to create a personalized statement."
     In addition to having enough space, be sure to have enough product on hand, relates avid crafter and former craft store owner Dawn Winburn, who suggests planning make and-takes two months ahead of time in order to determine what's needed and to have enough time to order the necessary items.
Leading the Way
The success of any make-and-take event relies not only on the project itself, but on who's leading it. If you have a creative employee in the store who is capable of instructing customers, that's great. You can also ask your suppliers if there is someone from their company who can come in and do a make-and-take for free; or you can opt to host a "celebrity" instructor who's well-known within their category but may cost more.
Put items for the make-and-take into an easy-to-buy kit.
     For the latter, you may have to charge customers a nominal fee to participate. In either case, Winburn suggests offering customers who participate in the make-and-take a discount off of the items involved in the project.
     To start piquing customers' interest well in advance, Fink recommends having the make-and-take project on display in the store for a month before the actual event. Additionally, Priest advises displaying the products used in the make-and-take near the event area or at checkout.
     Prepackaging the items in easy-to buy kits is also an option, says Priest, making it as easy as possible for customers to make, learn, and then purchase the supplies they need to go home and create more of the same. "Be sure to have additional project kits on hand, ready to sell; and do ask suppliers if they can provide samples for the event," adds Fink.
     AccuCut's die-cutting products, for example, allow retailers to mass produce the components for a project, making it easy to have many pieces to use for the make-and-take, as well as to package and sell to customers. "Sometimes," says Armbrust, "makeit-take-its can be a simple tag showcasing a unique stamping technique to the customers as they are getting ready to check out close to the register. It's an impulse buy; they make it really quick and tell the cashier to throw that product in with their purchase."
     For most make-and-take events, however, it's best to have customers sign up beforehand. Warns Priest: "Many times in stor
Post snapshots of the project on Instagram.
es, make-and takes without sign-ups experience an ebb and flow-some moments they are incredibly busy, so busy that it turns potential customers away; and other times they have no activity for up to an hour. Scheduling make-and take times with customers will ensure that it is busy enough to attract the attention of walk-ins, but not so busy that it turns customers away or that they have a bad experience from the make-and-take being too crowded."
Utilize Social Media
"One of the keys to hosting a successful event is promoting it," asserts Priest. Leading up to the event, she suggests posting cleverly composed snapshots of the project, supplies laid out elegantly on a table top, or a display in the shop related to the project, to social media via Instagram. "Instagram allows for filters and frames to be added to the photo, giving it a unique look, and the photo can also be
It's best to have a minimum of three seats at the make-and-take table.
shared to Twitter, Facebook and your other social-media accounts at the same time as it posts to Instagram," she explains.
     She also advises sharing these photos on Pinterest as well, noting that "any social media with a visual slant is going to be a great place to show off the beauty of your make-and-take project." Adds Priest: "Be sure to note the date of the make-and-take, how to sign up, and other essential details such as the location of the event. Make it as easy as possible for customers to get the information about your event; the easier the information is to access, the more likely they are to sign up for the event."
     "There are many reasons to consider hosting a make-and-take event," states Fink. "With proper publicity, it's a great way to get new faces into the store."
Related Content By Author
Best-Selling Author Erik Qualman Gives Digital Tips

More Videos
Subscribe to
Gifts & Dec Direct
Receive the news you need to know about the trends in the industry delivered right to your inbox.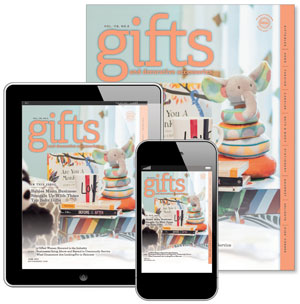 See the June 2017 issue of Gifts & Dec. In this issue... Babies Mean Business: Snuggle Up With These Top Baby Gifts. Plus, 9 Gifted Women Honored in the Industry, Business Going Above & Beyond in Community Service, and What Consumers Are Looking For in Skincare. Get details!