The Strong Acquires World's Largest Collection of Jigsaw Puzzles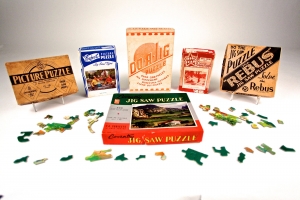 ROCHESTER, NY —The Strong museum has acquired a collection of more than 7,000 jigsaw puzzles, including examples from virtually all American and most European puzzle makers from the 18th century to present, in addition to tools and equipment used for puzzle making since that era.
The collection comes to The Strong from Anne Williams, who is considered by many to be the foremost expert and author on jigsaw puzzle history. Her books on the subject include the Jigsaw Puzzle: Piecing Together History and Cutting a Fine Figure: The Art of the Jigsaw Puzzle .
Among the items in the collection include: jigsaw puzzles from all major and many lesser American and many European manufacturers throughout history, including a child's map puzzle by John Spilsbury, the first recorded large scale puzzle producer in England. Spilsbury made map puzzles for the children of England's King George III; rare wooden puzzles for adults from the first wave of popularity during the 1910s; wooden puzzles from all American makers in the second wave of adult puzzle popularity, which peaked in 1933 and is typified by puzzles representing popular culture of the time; children's puzzles from the 1700s; examples from Parker Brothers' Pastime puzzle brand and Par puzzles of New York—two U.S. manufacturers known for their creative, detailed cutting methods; trade catalogs, advertising, and other materials documenting the history of puzzles; and jigsaw-making tools and equipment, including mechanical and foot-powered jigsaws and puzzle dies.
Puzzles emerged as teaching tools for children in the 1700s, and in the early days, many were cut from wood using a jigsaw, resulting in the name. Adult puzzles appeared in the early 1900s, and they reached peak popularity in America and Europe in the 1930s. New materials and manufacturing techniques made them more widely available, and they proved a welcome distraction during the Great Depression. The Strong inducted the jigsaw puzzle into its National Toy Hall of Fame in 2002.
"Anne Williams assembled one of the largest and most comprehensive jigsaw puzzle collections in the world, and we are now proud to be able to preserve these valuable and important playthings," says Christopher Bensch, The Strong's vice president for collections. "This world-class collection not only documents the history of puzzles, but it helps tell the story of manufacturing, popular culture, and multi-generational play."
Williams added, "I spent many years acquiring and studying these jigsaw puzzles, so I am pleased to know that my collection will be cared for by the expert staff of The Strong and shared with future generations at the nation's preeminent museum of play."
Related Content By Author