Playmobil Announces "How to Train Your Dragon" Playsets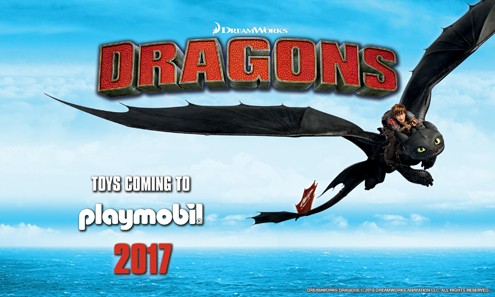 Zirndorf, Germany– Playmobil announced a licensing agreement with DreamWorks Animation on "How to Train Your Dragon," with a collection of original Playmobil sets due to be released in fall 2017. For the first time, Playmobil's 2017 product line will include licensed playsets inspired by entertainment properties.
"How to Train Your Dragon" has become a Top 10 license for DreamWorks Animation, with a fan base of children 3 to 11 years old. With Playmobil, the fantastical world will now be translated into the form of the play system, which also appeals to kids of the same target group.
"We are excited to bring the world of 'How to Train Your Dragon' to life as Playmobil toys. The epic story with its adorable characters and amazing scenery is just perfect to encourage hours of imaginative role play," says Silke Heinrich, Member of the Executive Board at Playmobil. "We are pleased to be aligning with DreamWorks to launch a new line of toy sets with a strong appeal among our joint target group. We believe the Dragons products will ignite our fans' passion even more and at the same time invite more children to get to know the play benefits of Playmobil."
Related Content By Author