World's Smallest Toys Emerge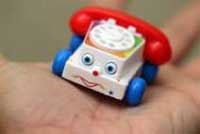 BRISTOL, PA – The Sock Monkey, Fisher-Price Chatter Phone, Duncan Imperial Yo-Yo, Perplexus, Rubik's Cube and other toys and games have shrunk with new Super Impulse figures.
Super Impulse, founded in 2013, has expanded its collection of tiny toys, featuring longtime licensed and non-licensed brands.
The toys are designed with the same working functions as the original, classic toys, but at a much smaller scale. In store, retailers can use Super Impulse's all-inclusive displays feature built-in video display screens that make the tiny toys appear life-size.
Related Content By Author