Toy Hall of Fame Inductees Revealed
Lego, Cra-Z-Art and RLA Marketing vets to get top honor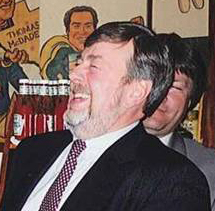 NEW YORK - The Toy Industry Association (TIA) will induct Peter Eio, former president of LEGO Systems, the late Ray Larsen, founder of RLA Marketing and the late Sydney Rosen, former owner of Rose-Art, Cra-Z-Art, into the Toy Industry Hall of Fame.
Each was selected for induction by members of TIA in recognition of their significant contributions to the industry and the impact they have had on the lives of children through a lifelong commitment to toys and play.

They will join a roster of 71 others inductees, including Jim Henson and George Lucas, who have been inducted into the Hall since it was established in 1984.
This year's induction ceremony will be held on February 17, 2017 at The Intrepid Sea, Air & Space Museum in New York City, in conjunction with the annual Toy of the Year (TOTY) Awards gala in New York City.

Peter Eio
"We are honored to welcome three true pioneers in the business of toys, Mr. Eio, Mr. Larsen and Mr. Rosen, into the prestigious Hall of Fame," said Steve Pasierb, TIA president and CEO. "These extraordinary individuals led careers that continually demonstrated a deep personal dedication to bringing joy, magic and learning to children around the world. Having their induction ceremony as part of the Toy of The Year Awards gala in February will be a highlight during the evening's celebration of our great industry."
Related Content By Author