The Three C's of CX: Content, Context and Consumer
These gift shops are more than just the "end of the ride"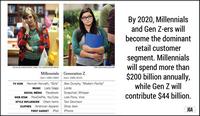 A glimpse of Millennial consumers vs. Gen Z-ers.

While consumer societies are at different points of development, first evolving from need-based Acquisition (think of it in terms of purchasing basic needs like water and food), to the more emotional Inquisitive; to the use of goods and materials to designate status and self-expression.
Ultimately evolving to the celebration of status (logos, luxury goods), they grow toward a state where the Experiential dominates the search for meaning.
The "nature of inquisitive" suggests that the typical framework of retail distribution—stores, online shopping, catalog, direct-to-consumer-requires a more nuanced and narrative-focused approach versus a direction that is primarily about styling and design for design's sake.
Describing retail in its broadest sense: anything that is transactional should further extend into activities that enlighten, educate, or provide settings for self-expression and creativity on the part of the consumer for which there is an outcome.
Examples include educational courses like the often talked-about, but less-often executed cooking!
The Experience Economy, and therefore CX, Customer Experience-Based Retail, leverages the tools of design materials and finishes, fixturing, space and technology.
Smart retailers must determine how these tools go beyond the tactical to the strategic. While all retail can benefit from a more experiential approach withing certain categories, not all are created equal. In retail, experiential is critical in the gift industry because of changing consumption patterns among its core consumers.
The experiential, value add of retail is often at the core of customers choosing not only where to buy, but if to buy.
Targeting New Generations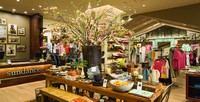 Sundance feels more curated than merchandised, and is presented with a high degree of casualness, intentionally creating a "walk in" moment for the guest who feels that they happened upon Sundance.
Today's movement of consumer from the Acquisitive to the Inquisitive places much of the focus on the Millennial consumer and the emerging Gen Z-ers. These customers have a very different sense of what shopping experiences should be, having matured in malls where in many cases their proven formats of choice have become static, repetitive, and ubiquitous.
Technology rapidly changed the perception of connectivity, social space, and even shopping access. Media became highly fragmented, and they began to describe themselves as not having a personality, but rather as being a brand.
This "deconstruction" of the highly successful format of store and customer has become more deconstructed as the Millennial and the Gen Z customer often shunned conventional retail brands and formats, seeking out the small, the unique, and the scarce.
From small online startups to vintage stores and brands such as Etsy, these portals to makers and storytellers help them see themselves as complementing brands by their choice, versus the traditional more branded and logoed brand experience that was at the heart of traditional mass consumption.
Create "Made Fresh Daily" Content
In looking at the development of Experiential Retail, there are three major building blocks. These include Content, Context, and of course, Consumer. Content focuses on those elements that are considered to be temporal, often localized, planned with obsolescence in mind and across many changing mediums, be it art, communication, visual merchandising, display, digitally-delivered content; and also all the sensory elements of sound, scent, and the most difficult ambient element, the human element (whether consumers or associates).
Content needs to be thought of as "Made Fresh Daily." Think of the smell of a bakery or the scent of a library; these elements of content evoke the softer side of a bakery or the scent of a library; these elements of content evoke the softer side of experience; all evocative and sit deeply in our emotional context. Through these emotional triggers we can find a space that is something vertical or one the is cut up and cubby-looking, as if small individual rooms.
Necessary Tools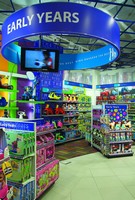 Fantasy World features fun, multicolored, round ceiling elements that match the brand's distinctive department colors, creating a more exciting to navigate the experience.
Today in our fast-changing environment, Context does not need to be any less articulated, although it can become a mere background typically dismissing the experinetial needs of the consumer. Through the use of scale, geometry, lightness or darkness, connection or disconnection with the outdoors, context leds experiential texture. Does it draw you in or does it create a sense of mystery and intrigue? Is it highly thematic or classically neutral? Is it traditional or modern, or is it refined, or industrial? This is one of the "legs" of the three-legged environmental experience.
Context is the focus of the architect/interior designer, or perhaps in your case as store owner, and serves as an important tool in organizing and creating rhythm and cadence. It delivers a degree of scale and organization supporting many of the critical operational and behind-the-scenes aspects of store operation and merchandising, as well as taking on a supporting role in the development of experience.
The context also acts through its organizing role in positioning and pacing the creation of Discovery trails, Focal Points, Interrupters; all framing, slowing-down or speeding-up the momentum of the customer. They offer a point of organizing and gathering spaces; areas of organizing and gathering spaces; areas of great intimacy and focus.
Circular Commerce Drives Consumers
Today's consumer lives in a world of Circular Commerce. The majority of your customers pre-shop, whether it be tactically, recreationally or socially-driven, which has resulted in fewer, but more purposeful store visits, providing more productive shopping time, and in many cases, an increased transaction level per visit.
It also offers consumers a greater sense of Retail Ecosystem on the part of their buying habits whether online, from catalogs or through the more traditional store setting.
These consumers vary dramatically based on age and how their shopping patterns and journeys have evolved. And as well, with the nature of their weekly versus holiday shopping, they need a high degree of familiarity and comfort. The increase of shopping logistics versus traditional shopping (order online, pick up instore, etc.), consider remote delivery, customization, and even elements as simple as free shipping can make your store the one from which they want to buy.
This consumer is willing to be inconvenienced (if entertained experientially), and even pay more, if they see the product as being bought in an environment considered experiential, as they will devote time and energy within this world of sufficiency.
The experience must provide the added value to satisfy their creative, social, and inquisitive side rather than being purely pragmatic.
Storytelling at the Heart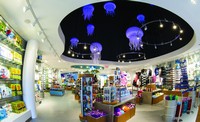 At Ripley's Aquarium of Canada, Cargo Hold Shop, a "school of jelly fish" above moves into a multistory dramatic space,creating a dark and mysterious setting, becoming an infinity space that radically shifts the look and feel of the surrounding shop.
At the heart of this move to CX is Storytelling, functioning to integrate the Content, Contest and Consumer into your story.
"Authentic" storytelling ("authentic" is actually in quotes as you are not limited to a real story) can tie back to consumers' more primal and basic human needs, with retail being about the essence of the story than necessarily the dates and the data.
Kate Tellers from The Moth said, "What the storyteller is saying must be authentic. That's really what audiences respond to." Storytelling details are critical to the sense of authenticity.
Each story needs to have a beginning, middle and an end. In order to engage and interest the consumer, the arc needs to generate empathy, connection, identification with, and be a big enough story that it is encompassing, simple and easily shared and understood by a broad segment of consumers.
Depending on the scale of the commerce, it can be more focused and limiting, but the ongoing success of retailers like Victoria's Secret, Anthropologie and Urban Outfitters is that their story transcends time and generation, albeit the details and the delivery reinvented to create relevance.
Your store can effectively create a sense of CX expectation for the next "show," in the way that a gallery or a museum effectively builds traffic; not dependent on the season or traditional purchase patterns, but instead taking an interruptive approach to purchase by creating new and exciting relevance for the Inquisitive customer.
Related Content By Author
Subscribe to
Gifts & Dec Direct
Receive the news you need to know about the trends in the industry delivered right to your inbox.


AmericasMart ICON Honorees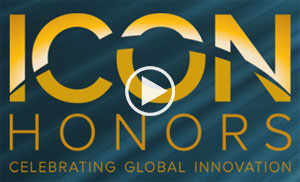 Excellence and superior achievement in the home and gift industry were recognized in July at AmericasMart's eighth annual ICON Honors. Enjoy these video stories celebrating the 2017 award recipients: Spicher and Company, Bloomingville, Wolf Gourmet, Her Majesty's English Tea Room, Kurt S. Adler, Inc., and Chris Rosse, Rosse and Associates. See the videos!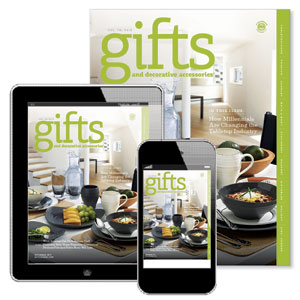 See the September 2017 issue of Gifts & Dec. We look at how Millennials are changing the tabletop industry, plus what retailers can do to reduce theft. Get details!