ASTRA Offers New Product Exclusives for Member Stores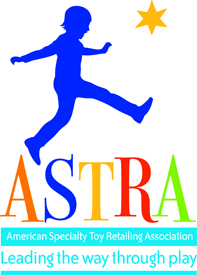 Chicago, IL. – The American Specialty Toy Retailing Association (ASTRA) has partnered with three member manufacturers—Neat-Oh/Totum, Plan Toys and ThinkFun—to offer 13 product exclusives for ASTRA members.
"One strategy for making ASTRA stores a destination in their communities is to offer top quality products with exceptional play value that their customers cannot find anywhere else," said Kimberly Mosley, President of ASTRA. "The ASTRA Exclusives program provides products that kids and parents will love—and retailers will appreciate the fact that these exclusive products prevent shoppers from 'showrooming' ASTRA stores."
The exclusive products, which were shown at Toy Fair and highlighted at the ASTRA Exclusives Reception Saturday evening will also be available in June at ASTRA's Marketplace & Academy in Philadelphia.
Selected by a committee of ASTRA retailers from a large selection of product proposals from ASTRA manufacturers, the high-quality toys align with the values of creative play that consumers have come to expect from an ASTRA retail store.
ASTRA Exclusives benefits include:
First-come buying – Only ASTRA retail members in North America can purchase these products for at least six months. The exclusivity period may be extended depending on the retail support through orders.
Quality assurance – ASTRA retailers independently reviewed and scored each proposal on product design, marketability and other important criteria in order to ensure that the exclusive products are the best possible fit for your ASTRA member store.
Ongoing research – ASTRA Exclusives will continue with new categories, making sure that we always have quality items that can only be found through ASTRA retailers.
<
Related Content By Author