Having a Ball: Hasbro Nerf Blast Ball
April 4, 2014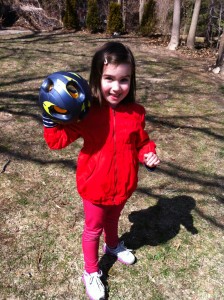 Nerf Blast Ball
Get a grip already, Mother Nature! What's with the one nice day that taunts us with sunny skies and mild temps…only to be faced with tomorrow's promise of cold rain and highs in the low 40s? It's making everyone a little bit stir crazy, and I'm not just talking about the kids! Well, if there's anything this erratic season is teaching us, it's to seize the day and take advantage of the outdoors whenever the weather permits. Today was one of those days meant to spent outside, so after homework time, we happily hit the backyard to try out a new toy.
Nerf Sports Bash Bal
l is, hands down, the best excuse to play a game of catch, soccer, dodgeball…you name it. You may wonder, "what's so special about an ordinary ball?," but that's just the thing. The Bash Ball is NOT your everyday ball. It's not only lightweight, but features an open-ended design with plenty of spots for easy gripping and handling. And that means it's perfect for all ages and skill sets. Trying to master a simple game of catch with your kindergartner? The Bash Ball is easier to grasp than your average supermarket bouncy ball, as my 5-year-old quickly found out. If you're up for a game of soccer in the backyard, it'll be your goalie's best friend (read: no pain). An unexpected bonus: If your ball accidentally ends up in a bush or other hard-to-reach spot, you can retrieve it one-handed! We can't wait for summer to see how this ball works in the pool and at the beach!
In a Nutshell: Dodgeball, kickball, volleyball, soccer, handball, catch…you name it. No matter your game, this is your go-to ball.