Numbers Up: The Little Rockers Band Count Me In!
April 17, 2014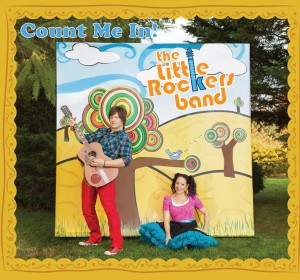 In our family, spring cleaning extends itself over to our family car, and that means swapping out our current CDs for some fresh new tunes. Just in time, The Little Rockers just dropped their third kids' CD, Count Me In!, and it makes for a refreshing new sound. Chris & Jessie Apple are at it again with a medley of songs that are as diverse as its listening audience. Aimed at ages 2-6, Count Me In! contains plenty of catchy, sing-alongs that are easy on the ears and age-appropriate for the preschool crowd. From the opening title track, to "Wild, Wild West," each track invites young listeners to use their imaginations and dream big. Whether they are greeting a new neighbor in "Hi, Hi, Hi," or playing with man's best friend (and other animal buddies) in "Me & My Dog," kids will be able to relate to these little ditties in their everyday lives. Grown-up ears will appreciate the tribute to Paul Simon's "Me & Julio," not to mention a nod to another classic musician in "Old Mick Jagger." The dozen tracks capture a variety of musical styles, designed to appeal to a wide range of listeners. Be sure to make room in your family's musical library for this satisfying release, good for the car, your family room or wherever your kids love to rock out.
In a Nutshell: Get on your feet and clap your hands. This kiddie CD is chock-full of toe tappin' tunes that will jumpstart your playlist.