Not Your Older Kid's Sidewalk Chalk: Crayola Grab 'N Go
April 23, 2014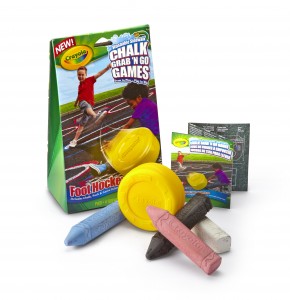 Crayola Grab and Go Chalk
Still looking for last-minute Easter basket stuffers? We've got some great suggestions that work for girls and boys, from a name that's synonymous with creativity. New this spring,
Crayola
has introduced Chalk Grab 'N Go Games , a line of classic games based on its colorful sidewalk chalk. If you've got kids, chances are you have a bucket of sidewalk chalk hiding somewhere in your garage, like we do. With these fun games, chalk extends its usefulness beyond hopscotch and sidewalk sketches into more active play. Each packaged game– Chip Shot Golf , Foot Hockey , Bean Bag Toss and Obstacle Course –contains all the tools needed to play, including four sticks of chalk. Not only are these games ideal for backyard play, but they pack easily for trips to the park or for family vacations. Our favorites are Foot Hockey (no ice necessary) and Obstacle Course (a game that never gets old and can be made different every time). So, whether you're looking to jazz up outdoor playtime or add something special to an Easter basket, we've found some real winners.
In a Nutshell: Chalk it up to a good time. These games give new life to sidewalk chalk that goes from ho-hum to hooray!