And the Crowd Goes Wild: World Cup Soccer-Themed Toys
June 19, 2014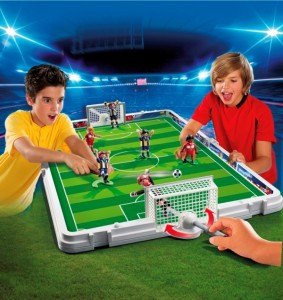 Right now, I'm in Brazil (mentally speaking, of course). While I wish I were relaxing on one of their beautiful beaches, the place I'm in is a far cry from the sandy shore. We're packed in like sardines at the Sao Paulo stadium, but hey, it's worth it just to see J. Lo and Pitbull in the midst of an Amazon rainforest made up of walking trees and dancing flowers…Poof! I'm wide awake now, but as they say, a mom can dream, can't she? If you or your kids want to live out their World Cup fantasies over the next few weeks, we have a few toy suggestions to help get your game on. Playmobil's Take Along Soccer Match comes with everything needed to play pretend on the go, including six athlete figures. Goalies are connected to an actual goal joystick, so you can control their movements. This portable playset can go from the playroom to the backyard where you can try out your own moves…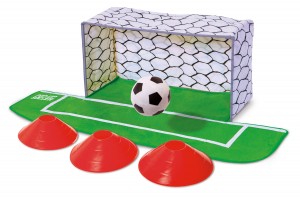 Stuck indoors on yet another rainy day? Diggin Active's Pop Up Soccer brings the sport inside with this set that comes with a goal, soft indoor soccer ball and 3 cones. Whether you practice drills or challenge your opponents to a kick-off, you're bound to have a ball (pun intended). Moms will love how this set stores easily, with the ball and cones fitting inside the fold-up goal.
And what's a soccer field without its players? Kaskey Kids Soccer Guys is a complete set of colorful players, portable playing field and net. Perfect for practicing fancy footwork in the comfort of your home. Who likes crowded stands, anyway?
In a Nutshell: Can't make it to Brazil? Create your own World Cup at home with these soccer playthings destined to score points with kids big and small.