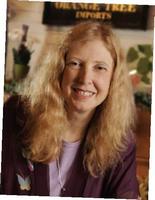 Go Gift Box
July 8, 2014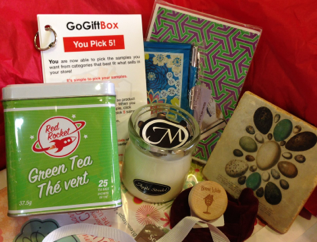 Dana Bullock was frustrated by the limitations of trade shows as a means of spreading the word about her handcrafted gift line. She thought there must be a better way to get products in front of buyers — and thus Go Gift Box was born.
The company is now just a year old, and its list of participating vendors and retailers is growing. So is the concept — shop owners can now select five potential new suppliers each month, and will receive a box containing samples and ordering information from all five. The cost to the retailers is just $14.95, which Dana explains basically covers the cost of processing and shipping.
We signed up for Go Gift Box last month, and the photo above is our June box. It was fun to peruse the list of potential vendors to select those we wanted to have included in our box, and the day the box arrived was a bit like Christmas (since we of course had forgotten which ones we'd put on the list).
There was a wait between selecting our five companies and receiving the samples, because as Dana explained it can take some time to receive the items that have been requested from each participating company. One vendor that we had selected didn't come through, so we got a surprise item that turned out to be from a line we already buy — but it might well have been a product we didn't already carry from that vendor.
Did we place any orders as a result? Yes, we took advantage of the "show special" that several of the vendors in our box offered to reopen an account with a company we hadn't bought from in years. We're also still considering two of the other lines.
Go Gift Box will never replace going to a trade show — five items a month is not a broad selection compared to what even one multi-line sales agency can offer — but I think that at $14.95 a month it's well worth adding to your means of sourcing products. (And of course the items in the box are yours to keep, which means you might recoup some of the cost by selling them.) Companies in the gift industry rarely send out samples, so hopefully Dana's innovative marketing program will help them realize the value of getting their products, and ordering information, directly into the hands of potential new buyers.
Happy Retailing,
Carol "Orange" Schroeder
PS: There will be no Specialty Shop Retailing blog next week because I will be traveling.