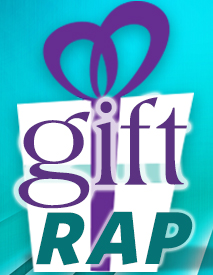 This Week's Picks: Adulting Stickers, A Cool Pillow, A Manly Candle and a Nigh Light
September 8, 2017
Here's a clue to just a few of what we've been crushing on as of late.
From trinkets to bracelets, we think they're all great.
So don't be blue when you don't know what to do.
Just listen up and follow our tool on the latest gifts you should get into.
Working at Gifts and Decorative Accessories is like living every day as a holiday. Searching for the latest new products feels a lot like shopping, and receiving samples in the mail feels a lot like our birthdays. We love what we do. We love to write; we love to test out the latest products; we love staying in the know; most of all, we love telling it all to you! See the latest products we've been crushing on below!
Brianna Glenn's Pick: I'm Only 26!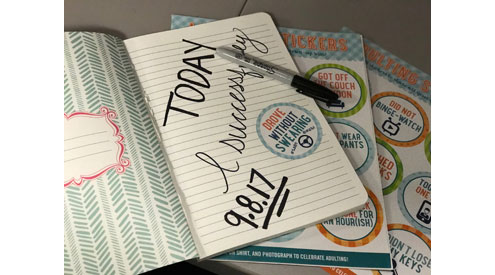 "I'M ONLY 26!" That's what I tell myself every morning when it's time to wake up and start adulting. I hate mornings… because I love the night time. I'm still perfecting how to properly make a bed, and the word "vegetable" isn't even in my vocabulary. See, I'm 26, which is technically makes me an adult but I feel like I still have a few years before I really have to commit to this whole adulting thing.
My friends over at Peter Pauper Press must have been thinking of me, though, because one day I received these awesome Adulting Stickers from them and I literally said "oh boy, these were made for me." Adulting Stickers allow us adults to reward ourselves with a sticker for all of our grown-up successes, just like back in kindergarten when you successfully tied your shoe or shared a toy. I love my Adulting Stickers because, although I don't adult much, when I do, I want to be recognized for it!
Today, I drove all the way to work, with not one potty-mouth expression :)
Cammie Collier's Pick: Happy Camper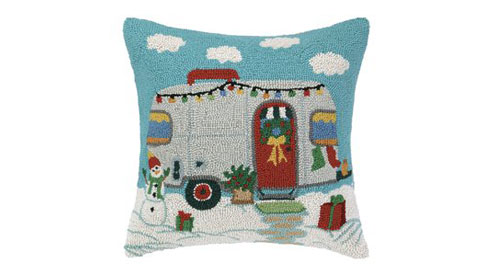 I was perusing our June GDA issue this week. I like going back to take a peek at our handiwork and look at the ads and see what's new and cool. As I was flipping through the early portion of the issue, I came across an ad for Peking Handicraft Holiday Pillows.
I have a dear friend, Diana, who loves decorating for the holidays, and is keen on pillows, so I went looking.
I found a site with an enormous number of Peking Handicraft Pillows, and to my pleasure and surprise, they have a Christmas Camper Pillow. (Actually, several.) This one I found is perfect for her. She doesn't actually go camping, but she goes—as she says—"glamping." Roughing it isn't her style! She makes full course meals, from appetizers to desserts, at the camp site. She's incredible.
Peking Handicrafts has some absolutely adorable pillows, tea towels and more. I shared in the office a few moments ago, for everyone to be prepared to get an awesome pillow for Christmas this year. I'm in love with Peking Handicrafts!
Michael Hurley's Pick: Last Call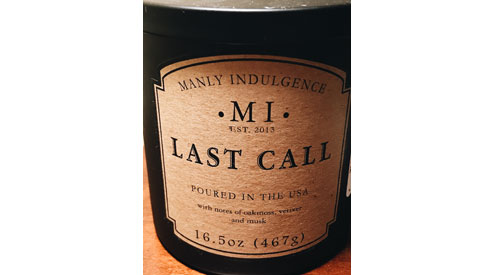 When I was in college a few years ago, a friend gifted me a candle with a scent titled "Last Call". I had never used a candle before, but as you're probably well aware, an apartment with three college guys can get pretty smelly, so I was willing to try it. Besides, the musky scent permeating from the candle vaguely reminded me of my granddad, a welcomed memory. One night I lit the candle and settled in for a long night of studying. The scent was warm and calming and drowned out the other myriad scents floating around the apartment. I have been a fan of the Manly Indulgence candle line ever since. The candles are attractively packaged and most importantly, are affordably priced. Since then, I have tried a few different candles from the line, but I always come back to the first one I tried. Nostalgia is a powerful thing.
Anne-Marie Earl's Pick: Crafts for Klutzes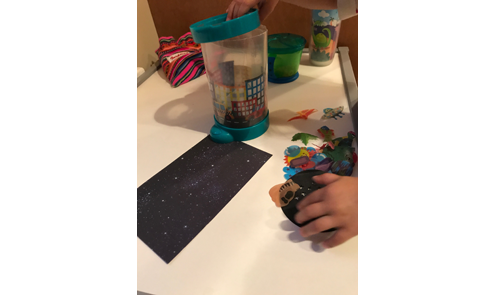 My two-year-old daughter has a short attention span, so I'm constantly looking for activities that will pique her interest and keep her occupied for a little while. Bonus points if we get to do that activity together! That's why I was so excited when Scholastic sent me the My Little Night Light by Klutz Jr. It's for ages 4 and up, but with my supervision, my girl was riveted. The instructions weren't hard to follow, and we made custom scenes that seem to glow when the lights are out. My daughter chose the night time sky with a cityscape background, but there are so many options: under the sea, dinosaurs and outer space, to name a few. We'll be able to make more scenes later, so it's not a one-and-done craft kit. Plus, we could always use an extra night light. Fun for kids, not painful for adults. That's my kind of kids' craft.