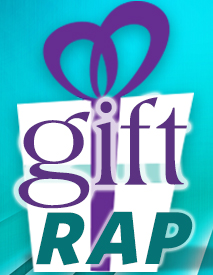 Popcorn That Tastes Like Fall, a Self-Rotating Globe, Plus Other Picks
October 13, 2017
Here's a clue to just a few of what we've been crushing on as of late.
From trinkets to bracelets, we think they're all great.
So don't be blue when you don't know what to do.
Just listen up and follow our tool on the latest gifts you should get into.
Finding the right product for your store can be fun, but also taxing. There are thousands of options, so how do you know which ones to pick? Here at Gifts and Decorative Accessories, we love trying new products and writing about them, too. So check out our picks for this week below for a little insight into some gifts that we think are crushing it. All have been personally tested by us, and approved, too!
Lenise Willis' Pick: Popping for Popcorn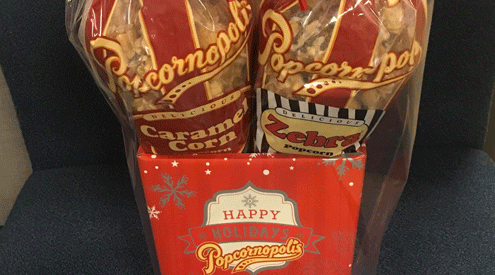 I usually don't indulge in sweet treats or snack throughout the work day...until the month of Halloween hits! I can't get enough of spiced apple cider, pumpkin cookies, coffee cake crumbles, and pretty much anything that reminds me of fall. I even brought in a tray of pumpkin cobbler and caramel apple cookies for the office to share. So when someone sent our team a special holiday gift basket of popcorn, by Popcornopolis, I eagerly popped out of my office to try one of the fun flavors. Anne-Marie Earl, our managing editor, can attest to how long it took me to decide which delectable flavor I would try first. I decided to try the Zebra popcorn, which had hints of caramel and was drizzled with white and dark chocolate. It was amazing! The popcorn tasted fresh and had just the right amount of crunch. The next day, the team tried the Cinnamon Toast popcorn and it didn't disappoint either! The cinnamon notes were wonderful and definitely spot-on for a fall treat. I wish I could say I tried the Kettle Corn, but it didn't make it. Anne-Marie polished it off in no time. We're assuming it was great, too. Today, we'll be snacking on the Caramel Corn, a classic.
Anne-Marie Earl's Pick: Cutting Up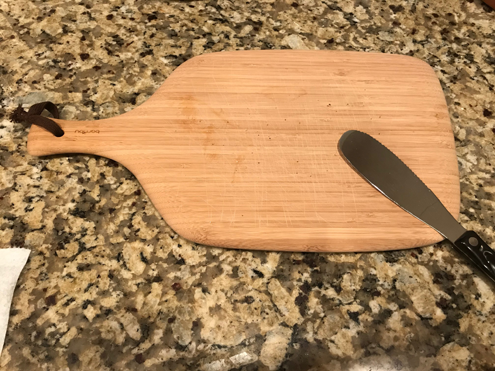 Everyone who knows me knows that I am not the cook in my household. My husband took on that role early, and I was happy that he did. Although, looking back, there were some growing pains. Chicken was often undercooked, and steak was (sadly) over. Vegetables were practically raw, and there was a phase where he put cayenne pepper and paprika on everything. Fast forward five years, and he's a seasoned chef who's had plenty of practice. He makes an amazing coq au vin, grilled fish tacos, tomato and avocado salad (I request that a lot), honey and balsamic-glazed chicken, and the list goes on. Our two-year-old daughter often takes a bite of whatever is for dinner and yells, "Daddy! Delicious!"
In the beginning, he learned with my ancient utensils, cookware and kitchenware. And after a lot of trial and error, I wanted to give him something as a thank you, to let him know how much I appreciate his effort and his cooking. I've been giving him pieces here and there: a balanced chef's knife, a new baking dish, better food storage containers…and this Bambu cutting board that isn't plastic, doesn't have wear and tear and doesn't have that melted mark from when he used it to cover a pot on the stove that one time. The Artisan Cutting & Serving Board is as pretty as it is functional. Made of bamboo, it doesn't absorb flavors, and it's sustainable, which is incredibly important to our family. He uses it to chop vegetables and fruit all the time, and it doubles as a beautiful cheese board when we have friends over. He loves to use it, and I'm so glad.
And in regards to the Popcornopolis Lenise reviewed, the Kettle Corn was scrumptious. She'll just have to trust me on that.
Cammie Collier's Pick: Jumping for Jupiter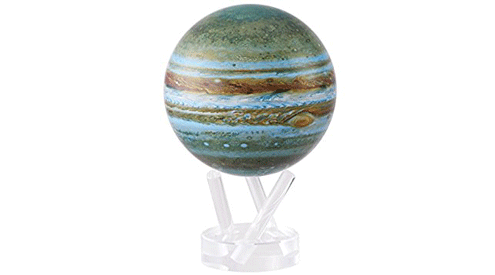 I love, love, LOVE astronomy. I have taken several courses over the years at my local planetarium, and even joined my regional, Forsyth Astronomical Society. I like to go to the planetarium as often as possible and the club takes periodic treks to mountain tops in the area. We set up telescopes and see what there is to see in the, "great out there!" One of my favorite planets to view is Jupiter. It is beautiful with the striations and interesting patterns. Recently, my boyfriend's neighbors invited us over for the afternoon to see their new remodel, and I was struck by one of their accessories: a MOVA Globe of Jupiter. Inside the globe, the planet was rotating and moving, but there weren't any cords! That's because it's solar powered. It also has magnets inside that register with the north pole, just as a compass would, and they make it turn in relation. (Somehow?) My boyfriend, knowing how much I love star gazing, surprised me with one. Mova International offers three globe sizes: 4.5", 6" and 8". I got the 6" size. It's absolutely beautiful. What a special man to be so sweet and thoughtful and what an incredible gift! Other celestial designs include the moon, mars and mercury, but they also have a variety of earth maps and styles.
To see these globes in action and learn about this technology, enjoy this video. It definitely sparks conversation. It's like nothing I've seen before.