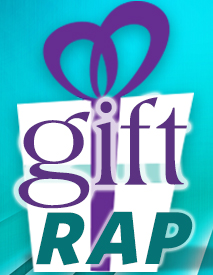 This Week's Picks: Unicorn Party Décor, Fairy-Tale Crystals, A Floral Journal and More
November 10, 2017
See what Lenise can't travel without, plus how Anne-Marie's daughter's birthday turned out. Every week, our GDA team gets to try out awesome new products and write about why we love them. Some of our favorites this week include cupcake toppers, a travel spray hand sanitizer, a beautiful notebook, and a fashionable statement piece.
Anne-Marie Earl's Pick: Making Birthday Magic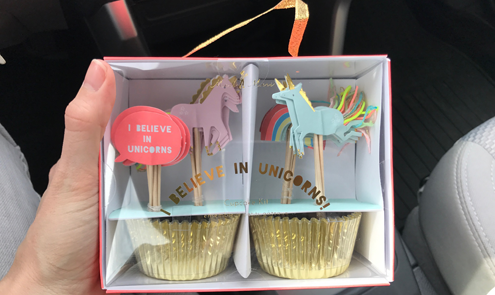 For special occasions, I want to make, what I refer to as, "holiday magic" for my daughter. She's two years old and is really starting to understand those special days, which is a ton of fun but also demanding on a working mother!
To celebrate my girl's birthday in June, we went with a unicorn theme because she is nothing if not on trend. Of course, picking a theme often means you wind up spending a ton of money or hours DIYing party décor. In my child-free days, I would take a full day to make baked goods from scratch. I'd also hit up a party store and decorate according to the theme of the celebration. As a mom, I don't have the disposable income or the disposable time! I picked up some Funfetti cake mix at the grocery store and swung by our favorite gift shop after work to get just a few things to make her cupcakes a little extra.
Meri Meri's products caught my eye, with a whimsical unicorns-and-rainbows theme. I got this cupcake decorating set, plus plates and napkins. They were super affordable, and the kids loved it. One very smart four-year-old even told me, "I like the theme!" He's a party planner in the making. And I will happily cut corners if it means I get to use cute party products like these.
Alex Herring's Pick: Fairy-tale Crystals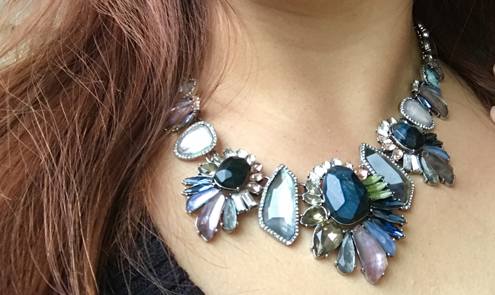 Chloe + Isabel's Into the Woods Statement Necklace makes you feel like a princess when you wear it, and that's sort of the point. The necklace is part of the new and whimsical Flights of Fancy collection which takes its inspiration from woodland fairy tales. Oh, and it features an assortment of sparkling gems including sapphire, semi-precious blue tiger eye, mother-of-pearl and diamond crystal pavé.
I love the eye-catching colors of this piece (ranging from deep blue to light lavender) because they pair beautifully with solid color tops but also look great draped around a bare throat. I could easily see myself wearing this to a holiday cocktail party or as an accessory to dress up a more casual ensemble. Either way, it's a great addition to my jewelry cabinet.
Cammie Collier's Pick: Putting Pen to Paper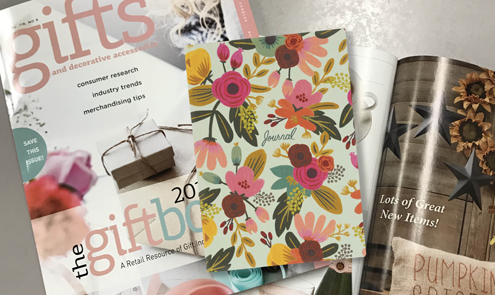 For my 13th birthday my Grandmother gave me a fabric covered journal. It was cream with small brown flowers. From that day forward for 15 years, I religiously wrote in my journal each evening. I wrote stories about the day, adventures my friends and I would go on, and even wrote dreams of the man I would marry one day. In those pages, I wrote of my first kiss, graduating high school, going to college and eventually falling in love. I look back through those pages sometimes with tears, laughter and smiles. I am thankful to have those memories to recall.
It has been a number of years since I have written as consistently as I did back then. But recently, I've come across some journals that have inspired me to put physical pen to paper once again. One of these journals is the Mint Floral Journal by the Rifle Paper Company located in Winter Park, Florida. I came across the lovely journal in a small shop in Raleigh. The cover is linen and the paper inside is a luscious vellum. It makes putting pen to paper a pleasure. The Rifle Paper Company offers a variety of products in beautiful patterns and styles.
Lenise Willis' Pick: Sweet and Sterilized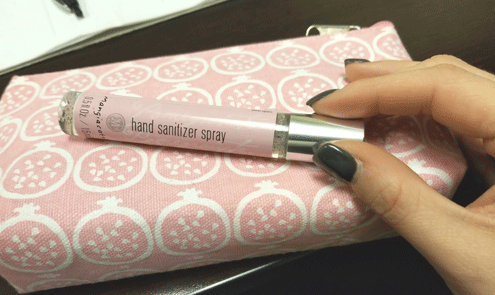 Now that I travel constantly for work, I'm much more aware of the germs that constantly surround me at airports, tradeshows and subway stations. When I first joined Gifts and Dec, I constantly had a cold because I wasn't used to all of the new germs associated with traveling. But now, I've both built up my immune system and wisely started using the Mangiacotti Pomegranate Hand Sanitizer Spray.
Not only does it smell fruity and amazing, but it also keeps my hands, and even airplane seat safe and sanitary. It's alcohol free, fragranced with essential oils, and protects for up to four hours. So, not only does it kill the germs on your hands once you spray it, but it even keeps them safe while you're perusing the new product aisles or trying to find the right terminal. Just the other day, I recommended the spray to Kelly Bristol, director of National Stationery Show, who was feeling a little under the weather after traveling. She, too, exclaimed how much she loved the Mangiacotti products, in general, and said she now had to go on a quest to get some of their sanitizer spray. Obviously, it comes highly recommended.