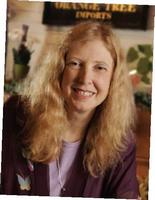 Of Interest On Pinterest
February 13, 2013
Looking for an original way to display jewelry, a fresh window idea — or perhaps inspiration for a remake of your storefront or sign? You can find all this and more by following the countless B2B (business to business) boards on Pinterest. As you know if you are already on Pinterest, it is easy to "follow" a board you are interested in, and unlike Facebook, Pinterest doesn't require mutual permission.
You might start your search for business ideas by looking at a board that I maintain for my fellow shopkeepers entitled For Retailers. I also have one with hundreds of ideas for Blade Signs, and a new one called Shops and Shopkeepers. Please note that when I set up my Pinterest account, you couldn't have one in the name of a business alone. That is why mine is currently under Carol Schroeder and Orange Tree Imports — but I am migrating the store's boards over to their own site.
There are many other boards and pins of interest to retailers, as you will discover if you do a search on Pinterest under Visual Merchandising, Shopkeeping, Storefronts, Window Displays and many other topics pertinent to running a store. This free sharing of photos is what Pinterest is all about, however it should be noted that many of the pictures being pinned (and repinned) have been posted without much regard to copyright.
If you are looking for inspiration for your Buy Local campaign, you will find many pins with ideas of graphics used in other areas. American Express sponsors several boards with a "shop small theme". And there are numerous boards of social media statistics (especially infographics) and concepts. The social media board from Crystal Vilkaitis of Crystal Media is a good example.
Trade magazines are a good source of Pinterest postings of interest to retailers. Several set up B2B boards, and I'm sure others will follow. An invitation to pin onto one of the boards inspired me to invite my fellow retailers on Monroe Street to pin on the Monroe Street Happenings board on the new Orange Tree Imports page on Pinterest - an option I hadn't realize existed. (Just click on Edit Board for the one you'd like to have others pin to, and go to Who Can Pin.)
Don't overlook the idea of following other retailers as well as some of your suppliers on Pinterest. Not only will you find inspiration for your shop, but you may find posting on the boards of your vendors that you can repin on your own boards, creating some retail excitement among your customers with a mere click of your mouse.