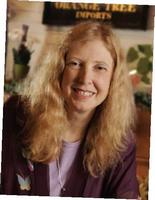 What's New?
January 2, 2013
As you head off to the gift shows in January, you will be looking for new products that will get your customers excited and in a buying mood. Hopefully the steadily recovering economy will mean lots of product introductions by existing suppliers, and perhaps even some new vendors.
Even if you have enough lines to fill your store already, I encourage you to place orders with some first-time exhibitors. If we want to keep the gift industry vibrant, we have to support those who are trying to get started in our field. Last year I brought in about a dozen small lines, many of them regional (a good reason to attend both a national and a local trade show). Not all of them were winners, of course, but we reordered from several of them.
As your new merchandise starts to arrive over the coming months, be sure to highlight it in your store displays. Only very regular shoppers can pick out what is new in your store without some effort. Although the accompanying photo, from an airport shop, may not be the most exciting display, it did catch my eye.
What could you do to create a more original "new arrivals" display? Perhaps you could build your display around a vehicle, such as a truck or airplane. Or you could play around with the word "NEW" to make an eye-catching sign. Large letters, available from crafts stores, can be painted to match your decor, or made sparkly with glitter or fairy lights.
Keeping the retail excitement going is the only way to make sure that new and existing customers will come and shop with us, especially during the winter months. Make sure that your store has something new to entice shoppers to come in, and to spend their money.
I hope that 2013 is a great year for you personally, and for your shop, and send you warm wishes for much success.