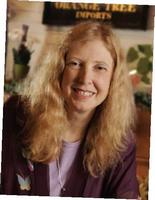 Countdown to Christmas
December 11, 2012
With Christmas Day only about two weeks away, Santa is not the only one who should be making a list! It's time to re-evaluate your inventory on hand, and also to take notes for next year. Happily much of our major buying for the holidays takes place at the winter gift shows, before we've forgotten the details of this year's season, but written records can be a great help.
It is especially important to make note now of what has already sold out. Since this year's customer favorites are your best prediction of next year's customer favorites, keep the hot items of this year in mind when you go to market. Don't forget, however, that fashion trends and other factors can come into play.
You won't have any trouble jotting down lists of the items that didn't sell well, because they'll still be on hand Christmas Eve. I usually take a half hour or so after we close that day to make a list of "who's naughty and nice" from this year. I could also do this a few days earlier, because if it hasn't sold well by December 20 it's not really a hot seller.
What about stock that you are still hoping to move this season? When a patient comes into an emergency room, the staff does a triage to determine which level of urgent care is needed. This is a good time to do a triage on your inventory, especially anything that is seasonal and will therefore lose value on December 26.
Start by determining which items are not moving at all, and consider doing a markdown (at less than the discount it will sell for in your post-holiday sale). Another idea is BOGO—buy one, get one free—which is of course the same as a half price sale, but gets two items off the shelf instead of one.
If you have an overstock of one line, or it's just moving a bit slowly, now is a good time to do a special display. You might move some items to a different part of the store, or try cross-merchandising them with a line that is selling briskly.
Pre-wrapping some of your stock as gifts can also boost sales of these items during the last two weeks of holiday shopping. We have done this with one of our hot items of the season, the Gurgle Pot. Unfortunately a customer decided to demonstrate this unusual pitcher for herself, accidentally pouring water all over the wrapped packages -- so they all had to be redone.
Happily we could laugh about it, because we make a point of trying to be relaxed and enjoy the season ourselves. We close the store at 2:00 on Christmas Eve and are closed on Boxing Day—the day after Christmas—so we all can rest. And we know that no matter how stressful the holidays are, Boxing Day will be here soon!