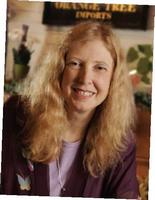 Fab Favicards
November 27, 2012
We all need more Facebook fans -- especially since Facebook is now showing us how many (or how few) people see each posting. Even if your business has over 1,100 likes, your reach may be less than 70 people. I know, because the statistics from our shop's Facebook page over the past week show a fluctuation from 69 to 315 views, depending on the posting. We are always working to get more fans, because the more fans we have, the more views we're likely to get.
Two of the businesses on our street (including A Stone's Throw) have been using cute little square Favicards from Jakprints to promote their Facebook page, so I ordered some for our store today. These 2"x2" cards are double-sided so that you can include a photo of your store, or your top product, on the back, together with your business name.
As with many printed items, the price per unit goes down significantly when you increase the quantity you order. We chose 2,000 for $67 instead of 1,000 for $62. Once the shipping charge is added on, we'll be paying about a nickel each. I plan to use them as bag-stuffers during the holiday season.
One of the key ways of making sure that your fans see most of your posts is to ask them to take an extra step beyond "liking" your business. You are welcome to adapt the text below to post on your Facebook page:
We promise not to overburden you with Facebook postings...but we would like you to see all the special offers, event notifications and interesting information that we have for you.

To keep receiving all posts from _________, hover your mouse over the "Like" button near our name. In the drop-down menu select "ADD TO INTEREST LISTS". Then create an interest list (for example Favorite local shops and restaurants). When you select that interest list in the left column of your Facebook home page, you'll see all of our postings.
Another way to be sure that more people will see your postings is to ask an interactive question, or include a picture that invites comments or sharing. The stronger your offer or image, the more likely it is to be shared or liked. And the more response you get to a posting, the more likely it is to be seen.
Facebook is now offering sponsored ads and a way to pay to promote your posts, and you can learn more about this on their help page.  If you've tried this method of connecting with your customers, I'd love to get your feedback. Just drop me a note at specialtyshopretail@me.com.