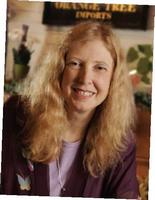 More Lessons From Zingerman's
November 13, 2012
Paul Saginaw
How do you provide the absolute best in customer service? Paul Saginaw of
Zingtrain
was recently in Madison for a seminar sponsored by
Dane Buy Local
, and had many helpful ideas. He and his partner Art Weinzweig oversee the family of Zingerman's enterprises in Ann Arbor, MI, which now numbers eight separate businesses and generates $44 million in sales. The company is renowned for its stellar customer service, which (according to a recent visitor from their area) is every bit as good as they strive to make it.
The first principle of great service, according to Saginaw, is to build a common understanding with customers by finding out who they are, and what they want. I found it interesting that he included staff, delivery people, sales reps and even those soliciting donations among the business's "customers" who need to be satisfied.
After finding out what customers want, Zingerman's employees are expected to get it for them accurately, politely and enthusiastically. In Saginaw's seminar he acknowledged that enthusiasm might need to be feigned in some cases, but that this was just part of what he called the "theater of retailing." Acting enthusiastic will often lead to real enthusiasm.
Employees at Zingerman's are expected to "go the extra mile" in giving great service by giving additional information about a product, providing a recipe, etc. Staff member are empowered to add extra value both in sales transactions and in the handling complaints and returns. (This is a subject that Zingerman's takes very seriously, and they clearly pride themselves on handling unhappy customers well.)
Secret shoppers and something called the Zingerman's Experience Indicator help track how well employees are performing in this arena. One thing that they are rated on is the 10/4 rule: staff members are told that if they are within 10 feet of a guest, they must make eye contact, and if they are within 4 feet, they must greet them. This applies not just to sales staff, but to all employees.
In order to make sure that everyone in the organization gives great service, Zingerman's follows five excellent principles:
teach it
define it
live it
measure it
reward it
To assure that the company adequately "teaches it," new hires are given a training passport for which they are responsible. A sample of this form, along with several other helpful ones, are available to download for free on the Zingerman's site. Trainees are expected to complete the rigorous series of sessions -- including a one-on-one with the founders. Not many businesses of their size would make every individual starting work in their enterprise such high priority.
If you would like to know more about the Zingerman approach, I encourage you to read Ari Weinzweig's book, the Zingerman's Guide to Giving Great Service, and to look into the training programs available through Zingtrain.