Offbeat News about gift vendors, reps, retailers and shows
Unusual gift-related news items found elsewhere on the Web
Retailer Excellence Awards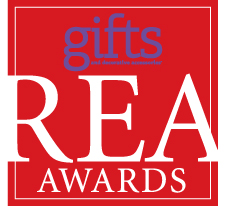 63rd Annual Retailer Excellence Awards.
Fill out your entries today!
• REA Entry Form
• Rising Star Nomination
• Sales Representative Nomination
Savvy Store Solutions

Carol Schroeder

April 16, 2014

Cooperation and collaboration are essential to the success of most small retailers -- whether it is through your local buy local movement, Chamber of Commerce or merchant association. Now there is a new tool available to help business owners connect, thanks to Eric Groves, a former senior executive of the online marketing company Constant Contact. Groves is the co-founder of a start-up business called Alignable, which describes itself as a free, online social network where business owners can connect, collaborate and learn from each other. He described it as a "LinkedIn for local businesses" in a recent interview with the Boston ...

Savvy Store Solutions

Carol Schroeder

April 8, 2014

"Fifty percent of retailers and brands will disappear," according to the future predictions made by Robin Lewis and Michael Dart in their recent book The New Rules of Retail: Competing in the World's Toughest Marketplace (Palgrave Macmillan, 2010). And as dire as this may sound to independent retailers, it turns out that the authors don't even factor us into their study. They are actually saying that 50% of the consumer businesses that compete with us are endangered! Whether this is good news or not is a matter of interpretation. However their study of changes in shopper behavior obviously ...

Re:Gifting

Warren Shoulberg

March 31, 2014

"I believe the theories which correlate demographic shifts, poor employment numbers, online tipping points, or other similar factors to the difficult sales in the young adult market are off-point. Sales correlate directly with fashion hits and misses, and I believe (we) had fewer hits than normal. It's that simple." What you have just read, folks, is the head of a big national retailing operation fess up and say his company blew it. It's a rare moment in retailing history. The quote comes from Urban Outfitters CEO and founder Richard Hayne and he said it on a conference call ...