Breaking news from the gift industry
The latest news from gift vendors, reps, retailers and shows.
Retailer Excellence Awards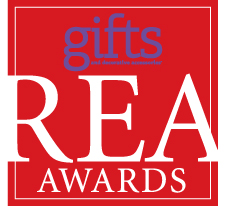 63rd Annual Retailer Excellence Awards.
Fill out your entries today!
• REA Entry Form
• Rising Star Nomination
• Sales Representative Nomination
Talking Walnut

Pamela Brill

February 27, 2014

I never dreamed that my kindergartener would visit a spa before I did, but lo and behold, hell hath frozen over. She has since attended two beauty-themed birthday parties-all at the ripe old age of 5-and seems to have had her fill (for the time being, at least). But one take-away that never seems to get old is the experience of having her nails "done." While she loves the glittery glow and the endless array of rainbow hues in which to adorn her digits, she admits that the stinky chemical smell is something she can live without (you and me ...

Savvy Store Solutions

Carol Schroeder

February 24, 2014

You may recognize this scenario: you want to carry some garden items in your shop for the summer season, but you can't rationalize placing a minimum order of $250 to $500 with each supplier you want to buy from. Here is a solution you may want to consider: a stocking distributor.Stocking distributors are consolidators who carry merchandise from several different companies (as well as some items of their own, probably direct imports), with a certain focus such as hardware, garden items, New Age products or housewares. They offer retailers the opportunity to place one order with a single ...

Savvy Store Solutions

Carol Schroeder

February 11, 2014

On a recent flight to attend a gift show, I discovered that my seat-mate had paid less than half the amount for her airfare than I had paid for mine. Welcome to the world of dynamic pricing! Technically dynamic pricing means that the price of an item is determined by a specific customer's ability to pay. In actuality, it means that prices are set based on what a specific customer is willing to pay. I probably bought my plane ticket later than my seat-mate, when fewer seats were available on the flight that fit my schedule. The airlines knew ...