Decorative Accessories trends, products & news
Trends in home décor, home entertaining, tabletop, candles, textiles and more.
SHOKAN, NY - Woodstock Chimes has supported numerous causes over the years with its Charitable Chimes collection of windchimes. This year, the Woodstock Chimes for Autism joins the collection; the special chime will help support autism programs and research. More

This small pillow will help get a home ready for the summer months ahead. More

Stationery: For the Eco Office

Totally Bamboo's desk accessories are made of replenishable, eco-friendly bamboo. More

Offbeat: German Store Apologizes for Hitler Mugs

BIELFELD, Germany - A German retailer has apologized after a clerk noticed an image of Adolf Hitler and swastika on a new shipment of the company's mugs. More

Easter to Warm Up Spring Sales

WASHINGTON – Americans are expected to spend $16.8 billion on apparel, candy, food and decorations during this Easter shopping season. More

Handcrafted in the U.S., these apothecary-style jars feature six fruity and fresh fragrances for spring, summer. More

Peugeot's Dahlia Duck Decanter is made of hand blown glass and features a distinctive silhouette that maximizes the surface of the wine that comes into contact with air for greater aeration. More

Niche Modern's vase series is made of up of five hand blown pieces featuring geometric shapes and bold colors. More
Retailer Excellence Awards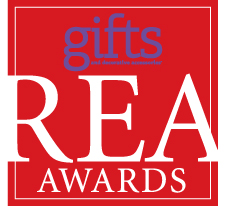 63rd Annual Retailer Excellence Awards.
Fill out your entries today!
• REA Entry Form
• Rising Star Nomination
• Sales Representative Nomination
Talking Walnut

Pamela Brill

March 21, 2014

How Sweet it Smells: Yankee Candle Peeps Marshmallow Chicks

Walk into any supermarket, drug store, Target or Walmart these days, and you'll be hard-pressed to find a seasonal aisle that's not overrun by Marshmallow Peeps. This well-loved Easter basket confectionery has expanded from its color palette from traditional yellow, into a vast array of rainbow-bright chicks that have now commanded their own designated section on store shelves. (Whoever said it was bunnies that multiply?). As if the love of all things Peeps couldn't grow much bigger, Yankee Candle has just released a Peeps Marshmallow Chicks candle just in time for Easter. One whiff of this scented ...

Talking Walnut

Pamela Brill

January 28, 2014

Getting Out of Dodge: Yankee Candle Exotic Escapes

Right now, I am listening to the ocean waves as they lap at my feet. The gulls are circling overhead as I sip from a cold concoction and inhale the tropical scents of coconut and pineapple. I inhale deeply and the intoxicating scent of salt mixed with sunscreen overcomes me...and then I wake up. Yes, my reality is that it's snowing for the sixth time this winter (but who's really counting), and my kids are yet again home from school. And since they'll most likely be home again tomorrow, with frigid temperatures keeping us indoors, I ...

Talking Walnut

Pamela Brill

November 4, 2013

Lightbulb Moment, Candlelight Dinner: Cree Lightbulbs, Yankee Candle Thanksgiving

This Sunday marks the end of Daylight Savings Time, and not a moment too soon. I don't know about you, but Halloween has left me a bit pooped out. (Show of hands: How many of your kids could barely make it to the bus stop this morning?) That extra hour of sleep will surely come in handy this weekend, especially after we all crash from the post trick-or-treating sugar high. As you find yourselves turning on the lights a bit earlier, consider stocking up on Cree LED bulbs. These energy-efficient light bulbs are long-lasting, shatter-proof and don't contain ...