Votivo Releases Candle Inspired by Noah Film

SPARTANBURG, SC - Votivo is releasing a limited edition candle inspired by the upcoming film, Noah, starring Russell Crowe. More

Wedded bliss begins with a memorable honeymoon. More

Inspired by a bohemian lifestyle, these Boho jar candles offer a kaleidoscope of bright colors, geometrics and lively scents. More

Part of Thymes' latest Studio Collection of home fragrance and bath and body products, Aqua Coralline soap offers a fresh, ocean-inspired scent for spring, summer. More

Polymer Clay Jewelry, The Art of Caning by Mathilde Brun takes the DIY artist through the different steps of making clay canes, layering clay and other processes for making intricately detailed jewelry pieces from polymer clay. More

Licensing News Roundup: February 11, 2014

Licensing agreements from Up With Paper, HGTV's Drew and Jonathan Scott, Paul Frank, FIFA, Aunty Acid and more More

Direct from Market: California Gift Show, January 2014

Even the Super Bowl and simultaneous shows happening across several cities (Las Vegas, New York, and Los Angeles) didn't do much to dampen the enthusiasm-or attendance numbers-at this year's California Gift Show. A DJ spinning upbeat ambient music on turntables welcomed new arrivals, along with a diverse array of exhibitors in the LA Convention Center's Kentia and South Halls. More
Retailer Excellence Awards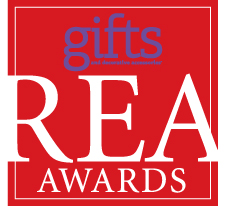 63rd Annual Retailer Excellence Awards.
Fill out your entries today!
• REA Entry Form
• Rising Star Nomination
• Sales Representative Nomination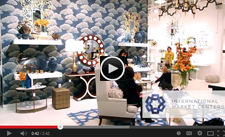 Join GDA Editorial Director Warren Shoulberg for video coverage of the recent Las Vegas Market's Gift + Home Show. See the videos. Videos are sponsored by the International Market Centers.
Talking Walnut

Pamela Brill

February 10, 2014

Bodacious Baubles: Juniorbeads

Every year for Valentine's Day, my dad bought me a heart-shaped box of chocolates. While my candy box only held 3 or 4 candy treats, I savored each one as though it was a precious gem...and couldn't wait for the day I would graduate to the deluxe-sized box that my mom received. We were never too big on jewelry (too flashy) or flowers (they look pretty, but don't last very long) in our house, so candy was king. As I got older, I noticed how many girls favored charm bracelets, diamond studs other jewelry, but that ...

Talking Walnut

Pamela Brill

January 28, 2014

Getting Out of Dodge: Yankee Candle Exotic Escapes

Right now, I am listening to the ocean waves as they lap at my feet. The gulls are circling overhead as I sip from a cold concoction and inhale the tropical scents of coconut and pineapple. I inhale deeply and the intoxicating scent of salt mixed with sunscreen overcomes me...and then I wake up. Yes, my reality is that it's snowing for the sixth time this winter (but who's really counting), and my kids are yet again home from school. And since they'll most likely be home again tomorrow, with frigid temperatures keeping us indoors, I ...

Talking Walnut

Pamela Brill

January 21, 2014

Snap Decision: Ollie & Bess Two Snap Crawlers

Anyone with a new baby knows all too well how many diaper changes they go through in one day. And when you're in a frazzled, sleep-deprived state of mind, trying to close up a squirming baby's pajamas at 3 a.m. can be a little daunting. Ollie & Bess two snap crawlers aims to simplify the diaper changing experience. These sleepers are designed with just two snaps-strategically placed in the back-so your little one is ready to go...hopefully, back to sleep. Your first thought might be like ours: only two snaps must mean gaping holes. And yet, that ...