NEW YORK and ADDISON, TX – The Poo-Pourri "Girls Don't Poop" video won the Funniest Viral Video — Audience Vote award, during the Ad Age Digital Conference in New York City earlier this month. More

Everything for washing infants is in one reusable and gift-giving box shaped like a lunchbox. More

Part of Thymes' latest Studio Collection of home fragrance and bath and body products, Aqua Coralline soap offers a fresh, ocean-inspired scent for spring, summer. More

Offbeat: Fragrances for Colds, Hair and Bed Sheets

CHICAGO - Certain scents have the power to conjure up memories, create an experience, but these days consumers want a fragrane to help cure a cold and cough, scent their hair and bed sheets--and choose scents via mobile app. More
Retailer Excellence Awards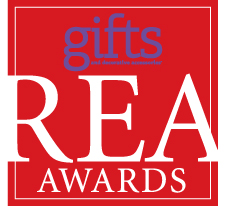 63rd Annual Retailer Excellence Awards.
Fill out your entries today!
• REA Entry Form
• Rising Star Nomination
• Sales Representative Nomination
Talking Walnut

Pamela Brill

February 27, 2014

I never dreamed that my kindergartener would visit a spa before I did, but lo and behold, hell hath frozen over. She has since attended two beauty-themed birthday parties-all at the ripe old age of 5-and seems to have had her fill (for the time being, at least). But one take-away that never seems to get old is the experience of having her nails "done." While she loves the glittery glow and the endless array of rainbow hues in which to adorn her digits, she admits that the stinky chemical smell is something she can live without (you and me ...

Offbeat News

Chris Nicely

February 12, 2014

Offbeat: Scratch and Sniff...Jeans?

This week's offbeat news story about how a survey from Mintel shows that Americans indicate that they increasingly want scents incorporated into themselves and their products (bed sheets, hair, cure for colds, etc.) reminds me of a recent Wired magazine article I saw about a new product that seems to me a perfect example of this new scent phenemenon.Wired Magazine reports that denim label Naked and Famous has introduced mint-scented jeans. The denim is coated in tiny scent-containing capsules that burst when scratched, releasing a cool wintergreen smell. "Our new WeirdGuy Jeans smell like mint whenever you scratch ...

Talking Walnut

Pamela Brill

January 16, 2014

Take to the Tub: Skip Hop Moby Waterfall Bath Rinser; Aden + Anais Bubble Bath

Two weeks into January, and the winter weather has covered everything from an ice storm and subzero temps, to an unseasonal tempest that hints of an early spring. Today brings about a cold, damp rain...but I'm still debating whether I should put away my flip flops. If this roller coaster of a winter is any indication of the next few months, then we'll glad hide out at home with a hot cup of something and a leisurely soak in the tub. If your version of reality hardly lends itself to undisturbed mommy time, then at least you ...