Fashion accessories products, trends & news
Trends in jewelry, handbags, travel goods and other fashion accessories.
Ame & Lulu's new Wine caddy features a padded liner and two interior compartments for wine bottles. More

Lightweight, reversible totes from Mixt Studio are made of Tyvek. One side comes in a beach More

The Nepal Prayer Box bracelet is part of the Wings collection from Alexa's Angels. More

The cloisonné pendant is gilded in 22 karat gold with a 18 karat gold-dipped chain and comes in test tube-style packaging. More

Alexa's Angels has introduced a collection of bracelets that offer encouragement and raise awareness for 13 cancer causes. Each bracelet reads "Be Brave" and has a brightly colored stretch cording with metal hook closure. More
Retailer Excellence Awards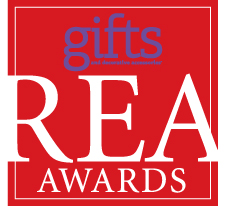 63rd Annual Retailer Excellence Awards.
Fill out your entries today!
• REA Entry Form
• Rising Star Nomination
• Sales Representative Nomination
Talking Walnut

Pamela Brill

April 1, 2014

A Summer State of Mind: Ocean Charms Jewelry-Making Activity Kit

We don't know about you, but we're having a hard time trying to get out of this winter rut. Sure, the calendar says spring, but it feels more like January. To help turn our thoughts to warmer weather, we decided to head to the beach…well, maybe not yet, but at least the sand and sea can inspire us to be creative. We had a chance to check out the Beach and Nature Company's Ocean Charms Jewelry Making Kit , and loved what could be made in one afternoon, in any season. This all-included kit contains everything needed ...

Talking Walnut

Pamela Brill

February 10, 2014

Bodacious Baubles: Juniorbeads

Every year for Valentine's Day, my dad bought me a heart-shaped box of chocolates. While my candy box only held 3 or 4 candy treats, I savored each one as though it was a precious gem...and couldn't wait for the day I would graduate to the deluxe-sized box that my mom received. We were never too big on jewelry (too flashy) or flowers (they look pretty, but don't last very long) in our house, so candy was king. As I got older, I noticed how many girls favored charm bracelets, diamond studs other jewelry, but that ...

Talking Walnut

Pamela Brill

January 15, 2014

And Everything Nice: Sugar Lulu Games for Tweens

Just because the holidays are over, doesn't mean gift-giving is finished. The birthday party scene is in full swing, and both my girls are receiving more invites than I can keep track of. While I've always love kids' birthdays, I'm admittedly finding it more challenging to buy for the older crowds. (I used to struggle with what to buy for high school age and up, but these days, even gifts for tweens leave me scratching my head.) Because we're a big fan of gifts that get the kids away from screens and back into the land ...